Former Brazilian footballing stars have few problems finding a managerial home in Japan, where natives have perennially sought to learn from the world's best. Zico famously came and went, leaving behind a 2004 AFC Asian Cup title and a place at 2006 FIFA World Cup Germany™ with the national team. But despite his departure, the Japanese continued their trend of importing Brazilian coaches by putting Carlos Alberto Lisboa in charge of their beach soccer side.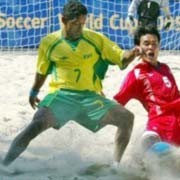 Brazil's Nenem (L) and Thailand's Kay vie for the ball during their 2005 FIFA Beach Soccer World Cup match
Better known as Nenem in his homeland and a legend on the beach football circuit, the ex-goal-getter has proved he is just the sort of tactician Japan desperately needed. His appointment came in July and only one month later he successfully led the team through a testing qualifying campaign to seal their third consecutive place at the global event.
Having achieved his initial goal, Nenem, whose 339 international goals remain a world record, was quick to reveal his team's ambition to improve on their semi-final finish back in the inaugural edition in 2005. "It is our realistic target to reach the last four," he said, "though we will not let the chance slip through our fingers if there is any possibility to win the title. And in the football world, nothing is impossible."
It is a testament to the confidence the coach has in his players, who must first strive to progress from a tough-looking Group C which also comprises Italy, Uruguay and Senegal. However, few would argue that Nenem, who helped his country to nine beach soccer world crowns, has the pedigree to take Japan to a level where they can compete against the top sides in the world.
Based on his 12-year international career with Brazil, Nenem believes that of the 16 participating teams, only Brazil and Portugal rank as the superior sides, while the other 14 are roughly at the same level. As a result, he considers every team, including Japan, as genuine contenders to claim a place in the second phase as long as they play to their strengths.
Big influence

With the FIFA Beach Soccer World Cup Rio 2007 just around the corner, Japan, who open their campaign against Senegal on 3 November, undertook a three-day training camp at Araha beach on Okinawa Island, the hotbed for Japan's beach soccer where two of the country's best teams, Requios FC and Sol Mar Praia (meaning 'sun, sea, beach' in Portuguese) are located.
Fourteen of the 18 players who took part in the training sessions come from the two giants, including Requios' youngsters Takashi Takiguchi and Takasuke Goto and So Mar Praia's emerging talent Shunta Suzuki, who all represented Japan at the previous two FIFA Beach Soccer World Cups. Nenem will compliment the youth in his squad with a crop of old heads, including 34-year-old Katsuhiro Yoshii, who figured prominently in the side which stormed into the semi-finals at the 2005 tournament.
There is no doubt that all of these players, newcomers and veterans, have benefited from Nenem's coaching, motivational techniques and professionalism in his three months in command. Kentaro Kurata, an official from the national teams department of the Japanese Football Association (JFA), said that Nemem has left his mark on the team despite his short tenure.
"Many of our players have told us that coach Nenem always makes every effort to win, no matter whether it is an official match or simply a training one. That kind of attitude has gradually influenced the team," he said.
Asked about Japan's objectives for Rio 2007, Kurata summed up the team's ambition to break further ground at the world's showpiece event. "Just because beach soccer is not as popular as the 11-a-side game, we will do our best to achieve as good a resut as we can - this is the best way to attract people to the game."