Because of their spiritlessness, Hoa Phat Ha Noi players Sunday afternoon weren't able to draw with Hoang Anh Gia Lai to avoid the September 28, 2007 play-off with An Giang, the third-placed First Division team.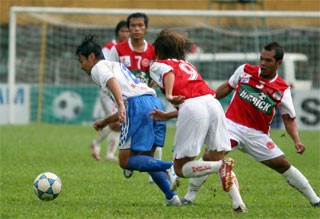 Hong Viet (White, of Hoa Phat Ha Noi) fails to break through the defense of Hoang Anh Gia Lai
Hoa Phat Ha Noi players were in low spirits Sunday, and this was evident in their play. With a slow beginning, it seemed Hoa Phat Ha Noi was hoping to get by with a minimal effort: just one point. However, the players of Hoang Anh Gia Lai were of a different mind.
Nguyen Dinh Viet of Hoang Anh Gia Lai scored the team's first goal in the 25th minute; within the next 12 minutes, he scored two more goals for Hoang Anh Gia Lai. Again in the second half, Dinh Viet shone, scoring two additional goals to set a league record for the most goals in a single match (five). Dinh Viet's record play helped Hoang Anh Gia Lai defeat Hoa Phat Ha Noi 6-1.
In a way, it seemed that Hoang Anh Gia Lai wanted to teach Hoa Phat Ha Noi how the game is really played. With the belief that Hoa Phat Ha Noi haven't played well all season, Hoang Anh Gia Lai sent them a strong message: play hard or go home. Hoang Anh Gia Lai's exceptional victory Sunday afternoon sent their opponents back to their rightful position as second-class players.
If the Hoa Phat Ha Noi players had played hard all season, they may have stood a chance against Hoang Anh Gia Lai. It served the losers right for not having done their best. Perhaps this was a good lesson for these semi-professionals; however we should note that this kind of play is the product of a semi-professional league.