Iceland coach Eyjolfur Sverrisson is full of praise for his young team after their recent run of success. "All our players are ready to take on any opponents," said Sverrisson proudly after their 2-1 win over Northern Ireland in the UEFA Euro 2008 qualifiers. Sverrisson, who used to ply his trade on the pitch for Stuttgart and Hertha Berlin, has every reason to look to the future with confidence.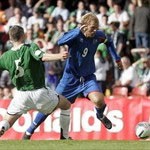 Iceland - Ireland
Jolly, as he was known during his playing days, took over the coaching reins from Asgeir Sigurvinsson almost two years ago, on 1 November 2005. Since then, Iceland have strung together some impressive results, none less so than last August. In a friendly in Reykjavik, the hosts drew 0-0 with 2006 FIFA World Cup Germany ™quarter-finalists Spain. When they then went on to win their opening UEFA Euro 2008 qualifier away in Belfast against Northern Ireland 3-0, the inhabitants of Europe's second-largest island nation were almost beside themselves with joy. "That was our biggest success at the time under my stewardship," recalled Sverrisson to FIFA.com. "We did really well in Belfast, we all played as a team and pulled off a result which surprised a few experts."
Defeats against Denmark (0-2) and Latvia (0-4) followed, but they soon returned to form against Sweden. Despite losing 2-1, the fact that they ranthe Scandinavians so close was seen as a moral victory, as was the case in the first match of 2007, when the players from the world's largest volcanic island only lost 1-0 in Spain.
In mid-2007, Iceland showed once again that they can bounce back from disappointments. With two matches in four days in early June, they drew 1-1at home to Liechtenstein before losing 0-5 in Solna to Sweden. "Iceland only has 300,000 inhabitants so we're obviously one of the smaller teams on the world stage. But football is a simple game, and anyone can pull off a result over the 90 minutes. Our team can compete with the best and have proved it in the past," said Sverrisson, who managed to gee his team up after the thrashing in Sweden and ready them for the remaining qualifiers.
So close to an upset
The team which includes Barcelona striker Eidur Gudjohnsen took the coach's encouragement to heart and set about proving over the past two monthsthat Iceland can indeed be a match for any team. A 1-1 draw at home to Canada was a start, and then their two most recent UEFA Euro qualifiers in September silenced even their harshest critics.
Sverrisson's team were a mere four minutes away from creating the biggest upset in Iceland's history after Emil Hallfredsson gave them the lead over Spain. Andres Iniesta finally equalised in the 86 th minute, but the Icelanders took all of the positives and self-confidence they had gained into their next match. Four days later, they beat Northern Ireland for the second time in the qualifying group, adding a 2-1 success in Reykjavik to the 3-0 victory in Belfast, doubling their win tally in the UEFA Euro 2008 qualifiers.
Four points from the last two qualifiers are an encouraging trend which the Icelanders are looking to continue, as in mid-October they will be hosting Latvia and travelling to Liechtenstein in the same competition. The coach has made his ambitions crystal clear to his troops. "I want to give this team some stability. In the last four-to-five years, Iceland has gone through something of a crisis that we're just coming out of. There are a number of new players who have made it into the squad and now we're trying to get a little more stability and improve our performances. This should hopefully bring with it better results and more points," said Sverrisson to FIFA.com.
The 39-year-old has longer-term plans, however, and is looking beyond the end of the UEFA Euro qualifiers. "We need to be ready for the 2010 World Cup qualifiers. Icelanders are a very proud people and it will always be our aim to qualify for one of these big tournaments. We really believe in this and we'll just have to wait and see how long it takes us to achieve our goal."