It is strange that Vietnamese lawmakers, during one of their working session, made good and in-depth suggestions for development of football in Viet Nam, while arguments made by those described as sport experts are not so and they do not sound to understand matters well.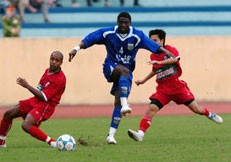 During a football match in the Vietnamese league (V-League)
This may be proved by what National Assembly deputy Tran Thi Tam Dan, Head of the Committee for Culture, Education, Youth and Children, said while she was debating with Nguyen Danh Thai, Minister and Head of the National Sports Committee.
Mr. Thai said, "The Viet Nam Football Federation is not capable to operate on its own without support from the State budget. For example, federation officials take working trips abroad at the budget's expenses."
Ms. Dan said, "We should not blame everything on the lack of money. If a deputy minister holds a high position at the federation, the authorities and responsibilities of the two posts must be separated clearly. Mr. Nguyen Trong Hy is the federation's president; so, it is impossible for him, also a deputy minister, to ask minister Thai for his suggestions."
What Ms. Tam said is correct.
"I would like to look into what the minister said about the federation's finance. During the first tenure, the federation had more than VND6 billion in its budget and it did not use State budget for its foreign activities."
For a long period, the National Sports Committee has been afraid that it may lose control over the federation; so it has assigned its officials to hold positions in the federation. However, achievements from the professionalization of Viet Nam's football have all come from the participating clubs and individuals, who have contributed to this development. Among them are Mr. Thang, the Dong Tam Tiles Club's boss, and Mr. Duc, the Hoang Anh Gia Lai Club's boss. Neither the federation nor the committee has done anything impressive.
Via media and their own verification of facts, Vietnamese legislators have understood the problem well and given proper suggestions. For example, Mr. Ho Duc Viet, head of the National Assembly Committee for Science, Technology and Environment, said, "Once a Party leader of a province went to the stadium to watch his province's team, and ordered the team managers to substitute players he wanted into the field."
Mr. Viet criticized cases in which Government officials have interfered too much in activities of sport associations and clubs.