Steve McClaren knows the knives are out for him as England stumble towards UEFA EURO 2008 failure, but the coach believes he is still the right man to lead his country. McClaren's team will be eliminated from the race to next year's finals if Russia win their last two matches, forcing England's star-studded squad to miss a major tournament for the first time in 14 years.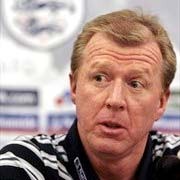 England national soccer team coach Steve McClaren speaks to the press (Photo: AFP)
It is a position that reflects badly on McClaren and a host of potential replacements are already being discussed by fans and pundits, with former Chelsea boss Jose Mourinho and Aston Villa's Martin O'Neill the bookmakers' favourites. If McClaren took to heart the frenzy of criticism that followed his side's meltdown in Moscow last week, he could have been forgiven for thinking he was out of a job already.
But he is convinced England have progressed enough during his year-long tenure for him to warrant more time to see his rebuilding process through. "I thought I was equipped for the job at the beginning, I thought it after five games, half-way through, three-quarters of the way through and I feel that now," he said.
"We are building something. People can see that. It is for other people to judge whether I deserve more time. I enjoy the job. They are a great set of players to work for and the spirit has been excellent all the way through.
"The momentum has built up as we have gone on. Unfortunately, we have just lost that momentum."
McClaren knows he will be ridiculed in some quarters if a England team including the likes of Wayne Rooney, John Terry, Steven Gerrard and Michael Owen are absent from the continental finals. It is an unpleasant prospect but one he insists he can deal with. Of course, I will think about it," McClaren said.
"I will deal with it as I have dealt with everything else. This is a big job. It is a high pressure job. I feel as if whatever has come at me, I have handled.
"We have all handled it and we have come through it. You can see that. We all want to achieve. It is my job to make sure we do."
Player support
One of the few players to flourish under McClaren has been Micah Richards. The Manchester City defender belied his youth and inexperience at the highest level to give another mature display in Moscow and he insists McClaren has the squad's total support.
"We are 100 per cent behind the manager. He's had a lot of injuries and always picks what he thinks is his strongest team," Richards told BBC Radio Five Live.
"Sometimes you win and sometimes you lose but he always stands up and takes the criticism and doesn't blame the players even though we should all share it."
Comparisons between the England football and rugby union players have been unflattering in the extreme to Richards and his team-mates, with accusations that the footballers do not play with pride infuriating the 19-year-old.
"The players do care. We are always proud to pull on the shirt and always up for the game when we go out and cross that white line," he concluded.