Brazil thumped Ecuador 5-0 in a FIFA World Cup qualifier on Wednesday, celebrating their first home match for two years and first at the Maracana stadium since 2000 in style.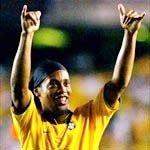 Brazilian player Ronaldinho celebrates after scoring the second goal against Ecuador on 17 October 2007 (Photo: AFP)
Vagner Love gave Brazil a 19th-minute lead just as the 70,000 crowd was getting impatient and the five-times world champions added four goals in a 12-minute spell late in the game.
Kaka struck twice, once with an exquisite curling shot and another with the help of a goalkeeping blunder by Daniel Viteri, and Ronaldinho and Elano also found the net.
The result was rough justice on Ecuador, who controlled the game for nearly one hour and threatened to snatch a point until Brazil's late flourish.