Not many 17-year-olds could walk into a dressing room containing such luminaries as Eric Abidal, Sylvain Wiltord, Giovane Elber, Sidney Govou, Michael Essien, Florent Malouda and Mahamadou Diarra and keep their composure. Yet that is exactly what the fresh-faced Karim Benzema did on a January evening back in 2005.

Like any newcomer to the Lyon first team, the young striker was invited to take the floor and introduce himself to his team-mates. Undaunted by the jokes and laughter of his esteemed elders, Benzema held his nerve and fired back a warning that belied his years: "You'd better stop laughing because I'm here to take your place."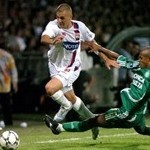 Lyon's French forward Karim Benzema (L) vies with Saint Etienne's Brazilian defender Nivaldo
In the two years that have elapsed since that initiation into the big time at Lyon, cool Karim has proved true to his word, starting out the 2007-2008 season as the six-time champions' first-choice striker. The richly talented Benzema owes his status as Lyon's chief frontman to more than just his nerveless insousiance, however, as any defender who has had the misfortune to come up against him this season will no doubt confirm.

Although the highly rated rookie showed flashes of brilliance in his first two seasons at the Stade Gerland, he has really come into his own at this the start of Lyon's latest title defence. Eight of his total Ligue 1 haul of 14 goals have come in his last eight games, a superlative strike rate not seen in France since David Trezeguet's season mirabilis in 1999-2000.

After a spluttering start to the new campaign OL have been indebted to Benzema and his goalscoring instincts, which have helped them go five games unbeaten in the league. Not that the self-effacing hitman is taking all the credit for the sudden upturn in their fortunes. "It's not only been me," he said after firing a hat-trick in a 5-1 demolition of FC Metz. "With the likes of Juninho, Kader Keita, Kim Kallstrom and Ben Arfa we've got a lot of talent in the side and some gifted performers in midfield and at the back too. As for me, well, I don't feel tired at all. I'm hungry to play and collect more match balls. I'm on top of my game." And as the goals continue to come, there can be no arguing with that.

A dream debut
Born in Lyon in December 1987, Benzema joined the youth ranks of his hometown club as a young boy, developing his striking skills through the seasons and making his mark both at domestic and international level, teaming up with fellow wonderboys Samir Nasri, Hatem Ben Arfa and Jeremy Menez to win the UEFA U-17 European Championship with Les Bleus in 2004. His technical qualities and unusually sharp eye for goal soon attracted the interest of the then Lyon coach Paul Le Guen, and even had the experts likening him to Trezeguet for his positional sense, to Thierry Henry for his turn of pace and Nicolas Anelka for his ability to lose his markers and link up with team-mates.

Recognising these gifts Le Guen gave him his first taste of Ligue 1 action towards the end of a meeting with Metz in 2004-05. The coach's faith was instantly repaid as the tyro cheekily lifted the ball over a Metz defender with his first touch and played in Bryan Bergougnoux for the winning goal, a lightning assist that showed he had what it took to thrive in the upper echelons.
Keen to break him in gently, Le Guen and his assistants restricted the rising star to six first division appearances that season, one in which the homeboy continued to hone his finishing skills in the club's U-18 team, scoring 12 times in 14 matches.

The following season brought 13 league appearances, a solitary goal and a UEFA Champions League debut against Rosenborg. And just as he did in his maiden Ligue 1 outing, the man known as "Bigbenz" to his team-mates, made another instant impression against the unsuspecting Norwegians, latching onto a Ben Arfa pass on the edge of the penalty box, taking out two defenders with his first touch and slotting the ball just inside the post, proof that he is nothing if not consistent.

He continued his learning curve last term, showing he could compete for a place with Wiltord, Govou, Fred, John Carew and Milan Baros to notch up 21 games in all. His five-goal haul for the season included a vital strike against Dynamo Kiev in October 2006, one that secured his side's place in the last sixteen of the Champions League.

UEFA Euro 2008 the target
While the teenage sensation is developing quickly, there is no doubt that having players of the calibre of Juninho, Wiltord and Govou around makes the job of learning that much easier. "They've got a lot of experience and I listen to them because I know it can really help me," he says. "With Wiltord I learn how to prepare. With 'Juni' it's more about what you do on the pitch, and with Sidney it's every day. He just tells me to stay the same way and to keep working."

That hard work certainly seems to be paying dividends. The latest coach to be impressed by the Lyon man's attributes is France boss Raymond Domenech, who called him up in November 2006 only for injury to deny Benzema his first international start. Thankfully, the youngster did not have long to wait before pulling on the famous blue jersey, his maiden appearance coming towards the end of a friendly with Austria at the Stade de France in March this year. And true to form, Benzema was straight out of the blocks, scoring the only goal of the game just nine minutes after coming on.

With less than a year to go to Euro 2008, the newly capped striker knows a productive campaign could well open the door to Austria and Switzerland for him, provided that France qualify first of all. Having made such a flying start to the season, he is giving himself every chance of making the trip. And as if to show he is the complete package, the two-footed Benzema has been finding the back of the net in every conceivable fashion, proving as deadly on the ground as he is in the air and equally capable of dispatching the ball with thunderous power and feline grace. As he explains, the key to it all is hard work. "I need to develop in every area and to do that I have to keep working. Although I know how to score, I need to keep doing it over and over again."

It was that same dedication to their trade that took two of the club's idols to the top: Bernard Lacombe, the former France international and now an adviser to OL president Jean-Michel Aulas; and Sonny Anderson, the Brazilian goal machine who played an instrumental part in its first two championship triumphs and who now trains the Lyon strikeforce.

Insatiable as ever, the fans at the Stade Gerland are anxious to see another striker of their stature emerge, a goalscorer that can help Lyon fulfil its rich potential on the European scene. And maybe, just maybe, their saviour they have been looking for has finally emerged.