NEW YORK, Sept 9, 2010 (AFP) - Venus Williams has shaken off a sore left knee that had benched her since Wimbledon and breezed into a US Open semi-final Friday against reigning champion Kim Clijsters without dropping a set.
Reaching the final four at a Grand Slam for the first time since last year at Wimbledon, US third seed Williams has impressed Belgian second seed Clijsters with her mental strength and desire as well as her shotmaking.
"The way that she's been playing and the way that she has mentally looked, I think it has maybe been even been good for her to have been away for that long, because she looks more hungry than ever," Clijsters said.
"She plays more aggressively. She's steady. She's focused. This is probably some of the best of Venus that I've seen for a while."
Two-time US Open champions Clijsters and Williams have split 12 matches, but Clijsters has won their past four meetings, including a three-set triumph in last year's US Open fourth round.
"We had a great match last year. It was really close," Williams said. "I'm sure that match made a big difference for her, because she went on to win the title. I'm sure we'll have another really good matchup.
"I would like to kind of flip the way it turns out."
Clijsters is trying to become the first defending champion to repeat since Williams in 2001 and stretch her 19-match win streak on the Flushing Meadows hardcourts, based on her 2005 and 2009 titles with a hiatus in between.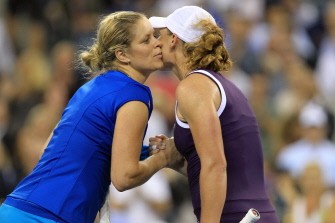 Kim Clijsters is congratulated by Samantha Stosur of Australia after Clijsters won their women's singles match on September 7, 2010. AFP
The last four players to eliminate Williams at the US Open have eventually won the title, a streak Clijsters began in 2005 and continued last year.
"She is capable of doing amazing things and you just have to hang in there and push her and at the same time be aggressive and go for shots and try to make her make the errors as well by being aggressive," Clijsters said.
"I'll have to be ready. I'll have to be able to move well. I'll have to retrieve a lot of balls, but at the same time be aggressive."
Williams expects aggressiveness from Clijsters, who impressed her last year in her title run after a two-year break to start a family.
"Just the ability to compete (is unique)," Williams said. "I think in coming back from her layoff, I think she never lost that. When you're a really, really incredible athlete, it really takes your game to another level.
"Great competitor. She plays her best tennis, it seems, at this tournament. I'm sure it's a place she feels really comfortable."
Williams has not won a US Open crown since 2001 but is not thinking about ending that drought at age 30 just yet.
"I want to be in the final, because then obviously it's just one more step (to the title)," Williams said. "But I'm just focused on the semis, and I don't get too excited unless the tournament is over."
The prize for the winner will be a US Open final on Saturday against the winner of the other semi-final opposing top seed Caroline Wozniacki of Denmark and seventh seed Vera Zvonareva of Russia.