MELBOURNE (AFP) – China's Li Na stunned top seed Caroline Wozniacki Thursday to set up a historic Australian Open final with Belgium's Kim Clijsters, who crushed world number two Vera Zvonareva.
Li clawed her way back from match point down to become Asia's first female Grand Slam finalist 3-6, 7-5, 6-3, and lie one win from a maiden major victory which could ignite tennis's growth in her giant home country.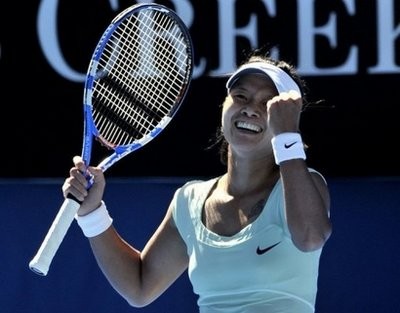 Li Na gestures as she celebrates beating Caroline Wozniacki in the women's semi-final at the Australian Open in Melbourne. AFP
It was sheer delight for the beaming Li, who was beaten by Serena Williams in last year's semi-final, and heroically recovered from a dreadful start against Wozniacki which she blamed on lack of sleep.
"I didn't have a good night's sleep last night," she joked. "My husband (snored). I woke up every hour."
Li, China's number one, saved the second-set match point with a crunching forehand as she finally came alive and overhauled her fading opponent on a sun-baked Rod Laver Arena.
Despite a soaring error-rate, the Wuhan native came out on top of a nerve-shredding deciding set when Wozniacki drove one long on Li's first match point.
When asked what had inspired her gritty fightback, the crowd favourite laughingly replied: "Prize money", referring to the US$2.2 million winner's jackpot.
But the result meant heartbreak for Wozniacki, who remains without a major title, meaning she will undoubtedly face more questions about her legitimacy as the world's best player. Her best result is US Open runner-up in 2009.
The 20-year-old Dane has had a difficult tournament after sparring with the media -- at one point falsely telling press she was attacked by a kangaroo -- and being told her media appearances were "boring".
"Sometimes in matches or in tennis it's one ball that can change everything. I didn't get my match point. From then on, well, she was just better at the most important points," said the despondent Wozniacki.
"Of course right now I'm sitting here and I wish I would have won the match. It's quite difficult to get through this one. I just need to get back on the practice court and keep working hard."
By reaching the semis Li was already assured of returning to the top 10, after becoming the first Chinese player to crack the elite group following last year's semi-final defeat to eventual winner Williams.
The trailblazing Li, China's first WTA champion, also remains unbeaten in 2011 after winning this month's Sydney International, when she shocked three-time US Open winner Clijsters in the final.
However, she will be in no doubt about the task ahead after Clijsters steamrolled Russia's Zvonareva with ominous ease to reach her second Australian Open final 6-3, 6-3 in just 1hr 13min.
Clijsters said she played her best tennis of the tournament. In 2004, Clijsters was runner-up to countrywoman Justine Henin, who announced her retirement overnight after an elbow injury.
But the result meant more frustration for Zvonareva, who was a beaten finalist at the previous two Grand Slam finals, including September's US Open loss to Clijsters.
"Vera is a tough player and I knew it would be a tough match against her," Clijsters said. "I knew I had to be on top of my game and lift my level compared to my other matches. I was able to rise to the occasion."
Zvonareva, 26, got off to a perfect start when she broke Clijsters in the opening game, but from there on the Belgian dominated. The 27-year-old barely made a mistake, banishing the erratic form that has plagued her career.