NEW YORK, Sept 10, 2010 (AFP) - Kim Clijsters will bid on Saturday to become the first women in nine years to win back-to-back US Open titles, emulating the woman she beat in the semi-finals, Venus Williams.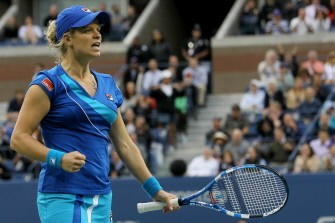 Kim Clijsters celebrates after a point against Venus Williams of the United States on September 10, 2010. AFP
The popular 27-year-old Belgian goes up against Vera Zvonareva, a volatile Russian who has finally learned this year at the age of 26 how to keep her emotions under check.

The two have played seven times since 2002 with Clijsters leading the series 5-2, although Zvonareva won their last two encounters, including a quarter-final victory at Wimbledon in July on the way to the final, where she lost to Serena Williams.
Last year, Clijsters produced one of the sports stories of the year by stepping out of a two-year retirement, during which she gave birth to a baby girl, to win her second US Open title, four years after her first.
This year, she has continued to impress, rising to third in the world rankings, although she admitted coming into Flushing Meadows that she was disappointed with her performances in the Grand Slam tournaments.
"It means a lot to be in the final again and give myself a chance to defend my title," she said.
"I always feel good here and I know if I give myself an opportunity to get into the second week and play these kind of matches anything is possible.
"What we call it all this year, I don't know."
Zvonareva ousted top seed Caroline Wozniacki in the other semi-final, once again displaying the maturity that she has lacked so cruelly in the past.
Last year here, the temperamental Russian underwent a spectacular meltdown after letting slip six match points in the second set against Italy's Flavia Pennetta in a fourth-round tie.
From being within touching distance of victory, minutes later Zvonareva was an emotional mess, hurling her racquet across the court, tearing at the tapes protecting her knees and eventually sobbing on court.
The result was inevitable, the experienced Pennetta went on to win 3-6, 7-6 (8/6), 6-0.
But the Muscovite, who is studying in her spare time for a degree in international ecomnomic relations, says she has learned from that experience.
"Last year, you know, it happens to everybody," she said after her win over Wozniacki.
"I'm sure there are a lot of players that had a lot of match points and lost that match and broke a lot of racquets and were disappointed a lot. It happens to everybody.
"That's in the past. It's just an experience, and I'm just looking forward and trying to manage it better the next time."
Clijsters will start as favorite and she will enjoy big support from the New York crowd which warmed to her story last year and shed a tear or two when daughter Jada was brought onto court to join in the victory celebrations.
Even in the semi-final against last home hope Williams, who was bidding at 30 to win the US Open for the third time and nine years after her last win, it was Clijsters who drew the biggest applause.
Another factor will be the conditions.
Following a hot first week of action, the Flushing Meadows complex has been buffeted on a daily basis by winds that have been particularly troublesome to the players on the Arthur Ashe Stadium court.
Zvonareva, though, knows what to expect from Clijsters.
"She's a great mover on the court. She has a lot of experience. She won here last year. It's going to be tough," she said.
"We played a couple of matches over the past couple of months, but those matches are in the past.
"I will think about what worked the best for me and I will try to take it with me tomorrow, and do it again.
"Those things that didn't work well for me, I tried to avoid them. That's it."
Clijsters said that Zvonareva was a player who gave little away.
"What she does, she does extremely well," she said. "She has a real good backhand and is serving better in the last few months from what I've seen.
"It will be a different match to what it was today."