The World Junior Championship, the United Arab Emirates Junior Open saw an alert young player from Hong Kong, Chiu Chung Hei, who played his first international tournament, but through to the quarters of the Boys' Singles in Al-Ain.
Chiu Chung Hei, 12 years old, convincingly defeated many players older than him in both age and career. In fact, in the Cadet (Under 15) Boys' Singles, he beat the host nation's Walid Albalooshi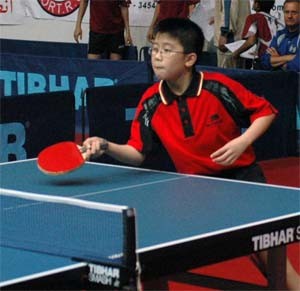 Chiu Chung Hei at 2006 UAE Junior Open
and Iran's Saeid Ahmadian to reach the penultimate stage. Meanwhile, in the Junior (Under 18) Boys' Singles, he overcame Mohd Jassem Linjawi of the United Arab Emirates and Mansor Alem of Saudi Arabia to book his place in the quarter-finals where he plays Efraim Carvalho of Brazil.
Chiu Chung Hei is seen as a "hot shot" at the World Junior Championship in Al –Ain (UAE), but he has been a potential talent to Hong Kong fans for a long time. He won many big prizes locally. Especially in the year of 2005, Chiu Chung Hei won the Hong Kong Champion title for the junior event and in top ten of Hong Kong's table tennis players.
Mr. Dong Lun, Chiu Chung Hei's coach gave comments about his player, " He's only small but he's very fast and he topspins well, his backhand is particularly strong."