LONDON, Sept 25, 2010 (AFP) - Champions Chelsea suffered their first Premier League defeat of the season as a Carlos Tevez goal handed Manchester City a 1-0 victory at Eastlands on Saturday.
Chelsea had been in scintillating form going into the match, winning five games out of five, scoring 21 goals and conceding only one to leave the London club four points clear at the top of the table.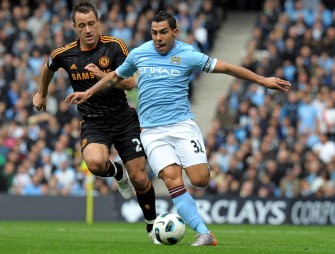 Carlos Tevez (R) vies with Chelsea's English defender John Terry on September 25, 2010. AFP
But in the first major test of their season the champions were unable to find their way through a well-organised Manchester City side, who remain fourth in the table, four points off the top.
City boss Roberto Mancini afterwards repeated his pre-match claim that Chelsea remained favourites for the title
"Chelsea are still the best team in the Premier League and probably they will still win the title," Mancini said. "It's not possible for them to score four or five goals every game and sometimes they will have days like today."
In later games, second-placed Arsenal missed the opportunity to close the gap on Chelsea to one point after they suffered a shock 3-2 defeat to West Bromwich Albion at the Emirates.
The Baggies were well worth their victory, seeing a first-half Chris Brunt penalty saved by Manuel Almunia before opening up a 3-0 lead with goals from Peter Odemwingie, Gonzalo Jara and former Arsenal winger Jerome Thomas.
Arsenal fought back through two late goals from Samir Nasri but it was too little too late for Arsene Wenger's men.
Wenger admitted his lacklustre side had been well-beaten.
"We were poor, we deserved to lose the game because we were just not up for it," Wenger said. "Not one of our players was at his usual level. We had a lack of concentration today and we paid for it.
"We made mistake after mistake defensively."
At Anfield, Liverpool skipper Steven Gerrard rescued his team from what would have been another embarrassing home defeat as Roy Hodgson's men scrambled a 2-2 draw against Sunderland.
Gerrard crashed in a 64th-minute header to give them a share of the points after two goals from Darren Bent had given the Black Cats a 2-1 lead.
But the major talking point was a controversial Dirk Kuyt lead that had given Liverpool the lead.
After referee Stuart Atwell awarded Sunderland a free-kick, Black Cats defender Michael Turner tapped the ball back towards his own goal as if to suggest to goalkeeper Simon Mignolet that he should take it.
However Fernando Torres pounced -- and with Atwell ruling the ball was live -- raced past Turner and passed to Kuyt to slide past the completely bewildered Mignolet sparking angry protests from Sunderland's players.
"Liverpool have got away with something today and for me it's unjust, it's unsportsmanlike, it's not in the rules of the game," Sunderland boss Steve Bruce fumed afterwards.
"I think everybody in the ground including most of the Liverpool team knew that Michael Turner didn't take the free-kick."
However, it was another unconvincing performance by Liverpool, who had suffered a humiliating League Cup defeat to lowly Northampton in midweek.
Basement club West Ham meanwhile made it an unhappy return for former manager and player Harry Redknapp, a 29th-minute Frederic Piquionne goal giving the Hammers their first win of the season in a 1-0 victory over Spurs.
The victory lifted West Ham off the bottom of the table at the expense of Everton, who could only manage a 0-0 draw in their visit to Fulham.
Everton, knocked out of the League Cup in midweek by Brentford, are still searching for their first win of the season with three points from six games.
Blackpool substitute Matt Phillips looked to have secured a share of the points for the Tangerines after scoring an 85th-minute equaliser for the newly promoted minnows in their match at home to Blackburn Rovers, who had taken the lead when Charlie Adam headed into his own net on 20 minutes.
But a Brett Emerton goal in the third minute of stoppage time snaffled a 2-1 victory for Rovers.
In the day's other game Birmingham were held to a 0-0 draw by Wigan at St Andrews.