PARIS, March 18, 2010 (AFP) - Bordeaux coach Laurent Blanc admitted that Barcelona are the bogeyman club everyone will be keen to avoid in Friday's Champions League draw for the last eight.
Defending champions Barcelona are the only team left to fly the Spanish flag in Europe and they showed their class with a 4-0 destruction of Stuttgart on Wednesday, giving them a 5-1 win on aggregate.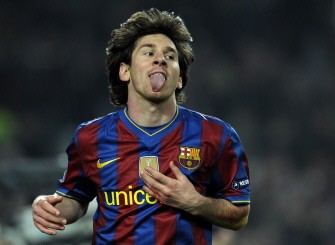 Barcelona's Argentinian forward Lionel Messi reacts after missing a goal opportunity during the UEFA Champions League football match between Barcelona and Stuttgart on March 17, 2010 in Barcelona. AFP PHOTO
They will be counting on the magical skills of Lionel Messi to lead them to the Champions League final at the Santiago Bernabeu stadium of arch rivals Real Madrid, and thus become the first team to defend the title since the competition's inception in 1993.
The Catalans go into Friday's quarter-final draw in Nyon, Switzerland along with 2008 winners and last season's runners-up Manchester United, Arsenal, Inter Milan, Lyon, Bordeaux, CSKA Moscow and Bayern Munich.
France find themselves with two teams in the final eight for the first time since 2004 with Bordeaux and Lyon.
And Blanc said he, for one, wanted to avoid the Spaniards after his side squeezed into the quarter-finals after a tense 2-0 victory over Greek club Olympiakos at home for a 3-1 aggregate victory midweek.
Asked if he was hoping to draw CSKA Moscow, Blanc said: "It would show a lack of respect for Moscow to say that. This team achieved a super match against Sevilla.
"But I'd like to avoid Barcelona because I think they're the bogeyman of this competition even if I saw a superb team on Tuesday evening - Inter Milan."
Barcelona and Manchester United, both three-time winners, and Inter Milan, two-time champions, are the rivals the other clubs will be hoping to avoid.
Barca president Joan Laporta said his side were feeling increasingly confident, but taking it one match at a time.
"We are on the right path," said Laporta.
"We have very difficult opponents ahead of us. We cannot think about the final, on Friday we will know who we will face and we will continue working as we have until now. They will be some hard-fought quarter-finals."
As Barcelona can count on Messi, Manchester United's not-so-secret weapon is Wayne Rooney, who reached 30 goals for the season as they marched into the last eight with a clinical 4-0 demolition of AC Milan.
Rooney added to his double in the 3-2 first leg victory in Milan with another brace at Old Trafford.
Jose Mourinho's Inter Milan were also impressive as they beat his old side Chelsea 2-1 in Italy and 1-0 in London to seal their quarter-final berth.
German giants Bayern Munich scraped past Fiorentina in the last 16.
Having won the first leg 2-1 in Munich thanks to a controversial goal from Miroslav Klose, Bayern went through on the away goals rule in Fiorentina after Arjen Robben and captain Mark van Bommel scored in Tuesday's 3-2 defeat.
"Maybe we'll avoid the really top teams at this stage," said Bayern's Germany star Bastian Schweinsteiger.
"We're delighted to be through, as that was our target. Let's see what happens in the draw."
Bayern could face United for the first time in eight years.
Lyon complete the line-up after they saw off Real Madrid to deprive Cristiano Ronaldo of the chance to return to Old Trafford.