NEW DELHI, Sept 26, 2010 (AFP) - Organisers of the Commonwealth Games scrambled to finish facilities and reassure athletes Sunday amid warnings much work still had to be done in New Delhi just a week before the opening ceremony.
National teams arriving at the athletes' village were greeted by a massive clean-up operation as hundreds of extra staff tackled uncompleted apartments, dirty toilets and piles of builders' rubbish.
The Commonwealth Games Federation denied it had failed to supervise Delhi during preparations for the event, which Indian leaders had hoped would be a demonstration of the nation's recent economic progress.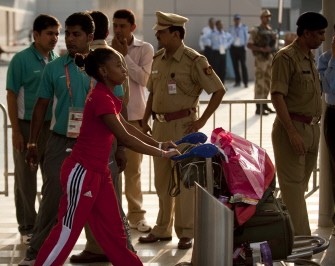 A Trinidad and Tobago team member arrives at the Indira Gandhi International Airport in New Delhi on September 26, 2010 ahead of the forthcoming Commonwealth Games. AFP
Federation chief executive Mike Hooper on Sunday pinned the blame squarely on Indian officials.
"I'm not a construction engineer. I'm not a builder. We're at the hands and the mercy of, effectively, the government of India, the Delhi government, the agencies responsible for delivery of the venues," he said.
"Renewed deadlines came and went. New reasons for delays kept coming up. Absolutely exasperation from our perspective," Hooper, a New Zealander, told Television New Zealand.
Hooper said all 71 competing nations had been kept aware of issues that needed to be resolved and that his "constant cajoling" had often brought few results.
"We can all do these post-mortems later. The reality is right now we need to focus on getting as much as we can done," he said.
Problems facing the Games range from shabby accommodation to security fears, an outbreak of dengue fever and doubts about public safety after the collapse of a new footbridge next to the main stadium on Wednesday.
In the latest withdrawals, two Australian athletes pulled out citing health concerns and the risk of a militant attack.
Cyclist Travis Meyer and table tennis player Stephanie Sang joined high-profile withdrawals on similar grounds by English Olympic 400m gold medallist Christine Ohuruogu, world triple jump champion Phillips Idowu and Australian world discus champion Dani Samuels.
The threat of whole teams withdrawing has receded, and the rest of Australia's participants begin arriving in New Delhi on Monday.
On Sunday, about 20 support staff from England moved into the Games village ahead of the country's first athletes.
"It's exciting but also a relief to be able to occupy our accommodation," said chef de mission Craig Hunter. "It has been a challenging experience but one which will make us stronger."
The English men's hockey side were forced to book into a hotel when they landed in Delhi because their apartments were unusable.
"It was very, very bad when we arrived," Jefri Ngadirin, the team manager for Malaysia, told AFP at the athletes' village. "We're working hard to get things OK for when our athletes fly in."
Ngadirin said he had been lifting furniture, cleaning rooms and lobbying Indian officials to repair air-conditioning units and taps.
"The organisers promised to help us and now they have got a lot more people," he said. "Progress is good. They just didn't plan ahead. This place should have been ready in July, but our hopes were dashed when we saw it."
Mike Fennell, president of the Commonwealth Games Federation, on Saturday said "extensive work" still had to be done and warned of the damage done to India's image.
He added that problems with transport, security, fire and evacuation procedures and medical services all needed to be addressed immediately.