SYDNEY, Sept 29, 2010 (AFP) - Australia Wednesday defended its travel bulletins warning of a "high risk" of attacks during the New Delhi Commonwealth Games after complaints from a senior Indian official.
Prime Minister Julia Gillard said the information was for travellers and was not a "slight" against India, which is under fire for its chaotic preparations for the October 3-14 event.
"This advice is not meant as a slight on the government and people of India, who are our good friends and partners," Gillard told parliament.
"It is not a judgement or a criticism. It is simply a service provided to help travellers make an informed decision."
Gillard was speaking after Games chairman Suresh Kalmadi blamed her for issuing the warnings, which also caution travellers over shoddy construction work at event sites.
"It's very unfortunate, we did not deserve that from the prime minister of Australia," Kalmadi told CNN.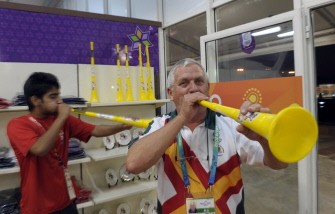 An Indian volunteer (L) and a competitor from Guernsey try out vuvuzelas which are for sale at a merchandise outlet within The Commonwealth Games' Village in New Delhi on September 28, 2010. AFP
Australia's latest advice, issued by the foreign department on Wednesday, said extremists were planning to attack hotels and tourist spots and maintains its warning that "there is a high risk of terrorist attack" in the capital.
The statement said Delhi has suffered at least 14 major extremist attacks in the past decade, causing "hundreds of deaths and injuries".
"We continue to receive reporting that terrorists plan to attack public places, including hotels and tourist locations, in New Delhi, Mumbai and other major cities," the updated bulletin said.
However, Gillard rejected media reports, citing leaked police documents on a Pakistani website, that Indian Maoist rebels were planning explosives attacks at the Games.
"I have seen those reports and I am advised our initial assessment is that those specific reports lack credibility," Gillard said.
Three Australian athletes have pulled out of the Games on health and safety concerns, although officials have resisted calls to withdraw the 400-strong team en masse.
Last week, Australia's Olympic chief John Coates said Delhi should never have been awarded the Games after a gun attack on tourists, a bridge collapse and poor conditions at the athlete's village.