HONG KONG, July 26, 2011 (AFP) - Chelsea goalkeeper Petr Cech on Tuesday advised smaller Asian players to make up for their diminutive stature by boosting their fitness, skill and agility.
Speaking in Hong Kong ahead of the Barclays Asia Trophy the towering Czech star said small players -- and goalkeepers in particular -- need to build on their other attributes.
"If you're not so tall you need to be sharp, quick, agile and compensate for your height," he said.
While several high-profile South Korean and Japanese players have made a mark overseas -- Korean Park Ji-Sung and Japanese Shinji Kagawa among them -- players from China and southeast Asia have struggled to make the top level.
Chelsea face local champions Kitchee on Wednesday and either Aston Villa or Blackburn on Saturday in the pre-season exhibition tournament, ahead of the Premier League start in August.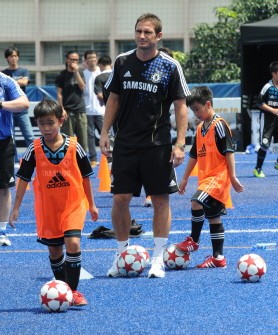 AFP - Chelsea football player Frank Lampard (C) takes part in a coaching clinic at a local school in Hong Kong on July 26, 2011
Cech was joined by teammates Frank Lampard, Salomon Kalou and £50 million ($82 million) Spanish striker Fernando Torres at Chelsea's Hong Kong soccer school, sharing skills and tips in a short session with young fans.
The visit to the glitzy city comes at the end of a whistlestop Asian tour this week following games in Malaysia and Thailand.
Premier League rivals Arsenal and Liverpool have also toured Asia this month and Chelsea are keen to tap the region's growing wealth and fanbase.
"It's important for the legacy of Chelsea and I hope it will make football grow here in Hong Kong," said Cech.