COPENHAGEN, Feb 9, 2011 (AFP) - England manager Fabio Capello has heaped praise on teenager Jack Wilshere ahead of his full international debut, against Denmark, by comparing him to the best young players he's known.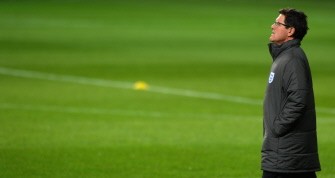 England manager Fabio Capello arrives to take part in a training session at the Parken Stadium in Copenhagen, Denmark, on February 8, 2011. AFP
The Arsenal midfielder's prodigious talent has seen him become a regular for his club after spending a spell on loan at Bolton Wanderers last season and already English supporters, desperate for a new hero following a miserable World Cup in South Africa last year, hope he could be 'the one'.
Wilshere has already played 15 minutes for England -- against Hungary at Wembley in August -- but Wednesday's match will be his first full start for the senior side and Capello clearly has high hopes.
"In four or five months he's improved a lot," the manager told reporters here on Tuesday."
"He plays with confidence and without fear. But the most important thing when I watched him at Arsenal is that the other players have confidence in him.
"I think he's ready to start with the team."
England need something to drive them on as they use this friendly in the Parken Stadium as preparation for next month's Euro 2012 qualifier against Wales at Cardiff's Millennium Stadium, which also boasts a retractable roof.
But it is asking a lot of Wilshere to carry the hopes of England fans who have spent more than 40 years waiting for another major trophy to add to the 1966 World Cup.
However, Capello was unusually unrestrained when describing his talent, adding: "Look, in five months he's proved a lot.
"He's 19, I know; but I remember the best players that I managed; (Franco) Baresi, (Paolo) Maldini, Raul, these players started really young.
"It's the talent.
"But also the senior players have to help him -- it's not for him to help the other players."
With that in mind the promotion of the 32-year-old Frank Lampard to captain, in the absence of the injured Rio Ferdinand and Steven Gerrard, could be crucial to Wilshere's development because, after 83 caps and 20 goals, the Chelsea man provides a wealth of England experience.
"I like him. There's a confidence and an edge to him," said Lampard of Wilshere. "That's good to see. You see him make a tackle, and fly into people, and he gets up.
"You want that in someone. Fans relate to that. That makes him that little bit extra special.
"I'd like to think we'd complement each other. The way he's played for Arsenal this year, he's got elements of his game where he can get forward and create things, and he can certainly play that midfield role where he can control the game from deeper.
"He can move the ball quickly. It's important to move the ball quickly from deep midfield in international football because teams can defend easier against you if you're too slow in that area at this level.
"Jack can inject some quick passing, as he does with Arsenal."