GRAZ, Austria, May 30, 2010 (AFP) - Fabio Capello declared himself happy with England's second half performance as they came from behind to beat Japan 2-1 in their final warm-up game for the World Cup and indicated he now knows 22 of the 23 players he will take to South Africa.
The 63-year-old Italian admitted he was not happy with England's first-half display in which they went 1-0 down to a goal from Marcus 'Tulio' Tanaka and looked both out of sorts and uncomfortable with an experimental 4-2-4 formation.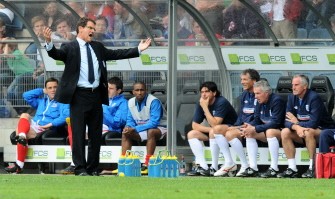 England's coach Fabio Capello reacts during a friendly international football match against Japan in Graz on May 30. AFP photo
But the fact that England improved dramatically with the inclusion of five half-time substitutes, and in particular Joe Cole, before Tulio and Yuji Nakazawa both scored unfortunate own goals to turn the match around, kept the Italian in good spirits.
"I am happy for the second half performance," he said.
"I think we played better, faster, we found space. In the first half we played too slow, it was easy for Japan to defend. But it was an interesting game.
"I know the players very well. I know their value. I have not changed my idea after this period, I am not disappointed and my mind has not been changed."
Capello, who saw Tom Huddlestone and Darren Bent fail to truly grasp their opportunities after being handed rare starts, was pleased with the performance of substitute Joe Cole in the hole behind Wayne Rooney in the second half.
It augurs well for the Chelsea winger's chances when England's final 23 is named on Tuesday morning.
"Joe Cole is an intelligent player, he can play in different positions," he said.
"I know Joe Cole very well. He is in a good moment, he is fresh because he did not plays a lot of games and he played very well in the second half."
Capello, who confirmed Frank Lampard will remain England's penalty taker despite seeing a spot-kick saved, refused to confirm the 'definites' in his 23-man squad.
But he indicated that with the exception of injured Gareth Barry, whose World Cup hopes will be decided when England's doctor reports in 48 hours time, he already knows who will be included.
"There will be no decision before June 1. I know 22 of the 23, the same 22 I decided last week - but you have to wait," said Capello.
"I hope Barry will be fit. We have to wait for the doctors to check. After that we will decide if he goes to South Africa with us."
Japan coach Takeshi Okada, under pressure following three defeats in four home games culminating in a 2-0 reverse to neighbours South Korea, could see only positives in his team's performance after they visibly grew in confidence against a below-par England side.
"After the defeat against South Korea I felt the players were missing something mentally," said the 53-year-old.
"But we have improved that part, although what happened at the end of the game was disappointing.
"But we have to recognise we were better and I'm happy with that - even though we gave up two own goals at the end we were more precise about our play. And England are a good side.
"We seem to be getting our fitness back and I am sure we can do even better. There is still more improvement to come in our play."