BASEL, Switzerland, Sept 8, 2010 (AFP) - Fabio Capello heaped praise on Wayne Rooney after the striker ended a week of speculation about his private life by scoring the opening goal in England's 3-1 victory over Switzerland.
There were serious questions being asked in England as to whether Rooney would be in the right frame of mind to play in the Euro 2012 qualifier after revelations he cheated on wife Coleen by sleeping with a prostitute.
But manager Capello stuck by his man and was rewarded as Rooney scored for the first time in almost a year for England, guiding them to a crucial victory in Group G.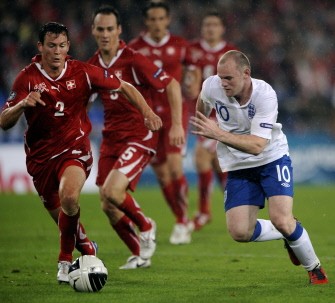 Wayne Rooney (R) vies for the ball with Switzerland's defender Lichtsteiner Stephan (Far L) and teammate defender Steve Von Bergen during their match Switzerland against England on September 7, 2010 in Basel. AFP
"The pressure was on Rooney, but he played very well. He was always at the centre of our play and movement," Capello said.
"He was okay and it helped scoring the goal, too. I told you yesterday that he had been okay in training. I'd seen that. Now he plays an official game really well. The players want to play without other things on their minds.
"They can focus on the game alone. He did that today. He was really happy at the end, as were the other players at the end. The result was really important."
Substitutes Adam Johnson and Darren Bent also scored and Capello believes he has now found the right position for Rooney following a disappointing World Cup.
The Manchester United man took up a deep role behind Jermain Defoe, just as he did last week when he set up all four goals in a 4-0 victory over Bulgaria.
"He played in a position that he played against Bulgaria, in the hole, and the other two midfielders helped him a lot when the Swiss had the goal," said Capello. "This position is good for him. It's easy for him to get into positions to shoot at goal.
Capello was also delighted at the performance of the untested centre-back combination which paird Joleon Lescott and Phil Jagielka.
"They had played together for many years at Everton and I spoke with them before the game, and the confidence and understanding between then was really high," Capello said.
Capello was understandably delighted with a victory that leaves England top of Group G with six points from two games.
And although they suffered injury concerns, with Arsenal's Theo Walcott and Tottenham's Jermain Defoe both being carried off on a stretcher, the signs for both players are good.
"I just spoke with Theo. He tells me it's not such a big problem. I said: 'Two weeks?' He told me less. Defoe was a little thing," he said.
X-Rays have already shown there are no broken bones in Walcott's ankle while Defoe has been allowed to fly home and will have a scan on his ankle tomorrow.
Ironically the injuries actually helped England because Walcott's replacement Adam Johnson was hugely impressive and scored his country's second goal - while Defoe was lying injured in the centre circle.
Then Darren Bent, who eventually replaced Defoe, came on to score the third.
The performance will raise questions as to why England were so poor in South Africa given their impressive record in qualifiers. But Capello was quick to find an explanation.
"You know my answer. We are really good in this period because we are fresh. All the players can run, their minds are free. Everything they try to do comes off," he said.