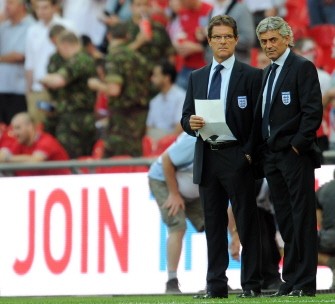 Fabio Capello (2ndR) and assistant Franco Baldini (R) look on ahead of the game against Hungary during the International friendly football match at Wembley Stadium in London on August 11, 2010. England won the game 2-1. AFP PHOTO
LONDON, Aug 11, 2010 (AFP) - England coach Fabio Capello admitted he called time on David Beckham's international career on Wednesday without first breaking the bad news to the star.
Beckham was unable to play in the World Cup due to an Achilles injury suffered while on loan at AC Milan in March, but the LA Galaxy midfielder had hoped to return to England duty when he was fully fit.
The former Manchester United and Real Madrid star went to the World Cup as part of Capello's backroom staff but the Italian, speaking ahead of Wednesday's friendly against Hungary at Wembley, which England won 2-1 without Beckham, said there was no chance of a recall for the Euro 2012 qualifying campaign.
"I say thank you very much for helping me at the World Cup but probably he is a little bit old," Capello told ITV.
In a statement which suggested Capello's words had come as a surprise to Beckham, the player's agent told BBC Sport the midfielder was not about to announce his international retirement.
The statement read: "For your info, there has been no discussion of retirement. He will always be available for his country, when fit and if needed he will be there."
However, Capello confirmed after the match that Beckham was no longer in his plans as he looks for younger players to spearhead England's Euro 2012 qualifying campaign.
It was a rather brutal dismissal of one of England's most loyal servants, but Capello insisted Beckham would have seen it coming.
"I think David knows he has no future with the international team because we have to change. Capello said. "I have to change everything. I need new players and have to think about the future.
"I'm sure someone will have phoned him now. We tried to speak to him but we couldn't. I will speak to him soon."
Capello also revealed he would grant Beckham a farewell appearance at Wembley in a friendly when he returns to fitness before consigning the 35-year-old former England captain to the history books.
"David is a fantastic player, he was really important but we have to monitor the new players for the future. The age is important," Capello said.
"We need new players for the future and for me and other managers. We have to look for new players, young players.
"You can see the new players like Ashley Young and Adam Johnson can play the right and left wing.
"I hope when he is ok, he can play here one last game at Wembley to say bye bye to the fans and thank you very much."
Beckham currently has 115 caps, the most number for any England outfield player but 10 short of Peter Shilton's overall national record.
Speaking to reporters Wednesday in Los Angeles, prior to Capello's comments, Beckham said: "I've always said that I won't retire from playing for my country, whether I never get picked again, play one more game or 10 more games. "There are a lot of good young players coming through. We'll see."
Beckham took part in conditioning drills on Wednesday with Galaxy training staff, but didn't scrimmage with his Major League Soccer teammates.
Beckham played in the 1998, 2002 and 2006 editions of the World Cup, but he was never able to enjoy his best form at the tournament.
Arguably the most famous moment of Beckham's England career came in the 2002 World Cup qualifier against Greece at Old Trafford when his superb performance and last-gasp free-kick secured a place in the finals.
In the 1998 tournament he was sent off for a needless kick at Argentina's Diego Simeone during a last-16 match that England lost on penalties, with Beckham vilified for his role in the defeat when he returned home.
England were never able to get past the quarter-finals of any tournament with Beckham as captain and he surrendered the skipper's armband at an emotional press conference after the 2006 World Cup.
It seemed Beckham's international career was over when Steve McClaren left him out of his first squads after replacing Sven Goran Eriksson as England coach in 2006.
Thinking his England days were finished, Beckham quit Real Madrid and moved to America, but he fought his way back into the international team soon after and was a regular member of Capello's group for the 2010 World Cup qualifying campaign.