VANCOUVER, Feb 28, 2010 (AFP) - The Vancouver Olympics closed Sunday with a star-studded celebration of Canada in front of an estimated global television audience of billions on a historic day for the host nation.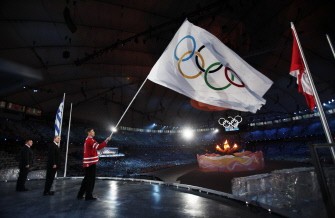 Vancouver Mayor Gregor Robertson (R) waves the Olympic flag next to International Olympic Committee (IOC) President Jacques Rogge (C) and Sochi Mayor Anatoly Pakhomov during the closing ceremony of the Vancouver 2010 Winter Olympics, February 28, 2010. AFP PHOTO
Just hours after Canada's dramatic ice hockey triumph over the United States sparked raucous scenes, the Olympic cauldron was extinguished in the city's 60,000-seat BC Place stadium.
Legendary Canadian rocker Neil Young and Hollywood stars William Shatner and Michael J. Fox were among the performers in a show that featured giant beavers, moose and Mounties as the audience donned antlers.
The athletes then got in the party mood with an all-Canadian concert featuring Nickelback, Avril Lavinge, and Alanis Morissette.
The athletes earlier entered to huge cheers on the day when Canada reached 14 gold - breaking the record for the most number of gold medals won at a Winter Games.
The Canadian flag was carried by figure skater Joannie Rochette, who won a bronze medal just days after her mother's sudden death.
The Olympic flag was handed over to Anatoly Pakhomov, mayor of Russian city Sochi, the host of the 2014 Winter Games.
Russian supermodel Natalia Vodianova then started a Sochi presentation that included "Zorbs," large transulcent balls with performers inside them, and live broadcasts from the city and Moscow.
International Olympic Committee president Jacques Rogge declared the Games closed, paying tribute to the young Georgian luger killed in training on the day of the opening ceremony.
"We have shared the grief of an Olympic dream cut short. The memory of Nodar Kumaritashvili will always be with us," said International Olympic Committee president Jacques Rogge.
"We have shared the joy of dreams fulfilled. We have witnessed extraordinary acts of courage and exceptional determination by athletes who refused to give up.
"Thank you to the people of Canada, for your generous hospitality, your warmth, and this unique and joyous celebration of Olympism."
Chief executive of organising committee VANOC John Furlong said the Games had "demonstrated the remarkable powers of sport to the human world."
"We have seen first hand that there is indeed a beautiful force that can unite, inspire and liberate - a force that can replace despair with hope and ignite the human spirit," he said.
He said Canadians "are stronger, more united, more in love with our country and more connected with each other than ever before."