EAST RUTHERFORD, New Jersey, Aug 9, 2010 (AFP) - New Brazil coach Mano Menzes brings back only four World Cup players for a Tuesday friendly against the United States, his debut in the job after taking over from Dunga.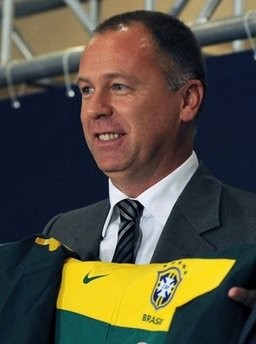 Mano Menzes
Santos striker Robinho, AC Milan defender Thiago Silva, Barcelona defender Daniel Alves and Benfica midfielder Ramires will be joined by 10 new players as the South Americans look to the 2012 London Olympics and 2014 World Cup.
AC Milan forward Alexandre Pato, Santos playmaker Neymar, Liverpool midfielder Lucas and defenders Rafael da Silva of Manchester United and Marcelo of Real Madrid are among the newcomers being touted as the top of the next generation of superstar talent for the five-time World Cup champions.
The Netherlands ousted Brazil in last month's World Cup quarter-finals, sparking Dunga's exit and a call for more flair from the Brazilians.
By contrast, the US lineup features 14 players from a World Cup squad that reached the last 16 despite no goals from forwards for the second consecutive tournament.
The match might also be the last for US World Cup coach Bob Bradley, whose contract ends in December.
"This game is a great opportunity to showcase many players from the World Cup team who earned the respect and appreciation of fans across the country," US coach Bob Bradley said.
"Our goal continues to be to compete and succeed against the best teams in the world. With an extremely talented group of players, Brazil will be another difficult test."
Los Angeles Galaxy playmaker Landon Donovan and Everton goalkeeper Tim Howard are among the US stars who will take the field with only one day of training.
Villarreal striker Jozy Altidore, who has nine goals in 20 matches for the Americans but struggled in the World Cup, was a late addition to the US squad.
The match will be played at the new home stadium of American football's New York Giants and New York Jets.
Brazil last played the Americans in the final of the 2009 Confederations Cup, the US squad seizing a 2-0 half-time lead before the South Americans rallied for a 3-2 triumph.