HAMBURG, Germany, July 3, 2011 (AFP) - Undisputed world heavyweight champion Wladimir Klitschko says his unanimous defeat of Britain's David Haye in their unification bout was a victory for boxing after Haye's persistent trash-talking.
Klitschko now holds the IBF, WBO and WBA belts after being awarded Saturday's fight 117-109, 118-108, 116-110 by the three judges to claim victory over Haye, the former WBA champion.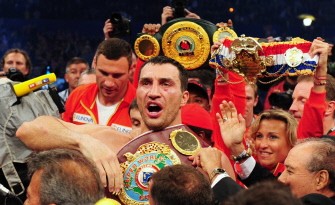 AFP - Wladimir Klitschko holds up a belt after the fight against British WBA champion David Haye
'Bitchko', 'a fraud' and 'a robot' were just some of the insults Haye hurled at the WBO, WBA and IBF heavyweight champion in the build-up to the fight.
Wladimir and brother Vitali, the WBC belt holder, now hold all four major titles, but Wladimir says he was just happy to silence Haye.
The brash Brit angered the Ukrainian siblings by appearing at a press conference in 2009 wearing a t-shirt showing an image of Haye in the ring brandishing the severed heads of both Wladimir and Vitali.
"It's a definitely a victory for boxing, because this man needs to go," said Klitschko.
"It wasn't cool what he did with the t-shirt, I think it throws a shadow on the sport and is just disgraceful to boxing and disrespectful to his opponent.
"What he did with the t-shirts really pissed me off."
Haye pulled out of the original bout against Klitschko in 2009 with a back injury and the Brit blamed his defeat partly on a broken toe on his right foot.
Klitschko was denied the 50th knock-out of his career by Haye and the Ukrainian questioned his opponent's decision to move up from cruiserweight in 2008.
"I thought I as going to celebrate my 50th knock-out, I have to give respect to David Haye, he was alert through out the fight," said Klitschko.
"You were very cautious, very conservative, I didn't see anything of the skills you have.
"You are fast and alert, but the heavyweight division means you need to be heavy and tall, boxing has different weight classes.
"Anyway, you have balls, you moved up and you challenged me.
"Probably David would have had success with certain types of heavyweight, but I think it is going to be difficult for him at this level."
After Haye gave a detailed explanation of the toe injury he suffered in training, Klitschko admonished him for being a 'sore loser'.
"I give you some advice, don't say anything about having a broken toe, that just makes you a sore loser," he said.