DRESDEN, Germany, July 11, 2011 (AFP) - After his side's dramatic quarter-final exit from the women's World Cup at the hands of the USA, Brazil coach Kleiton Lima said he fails to understand the jeers for star striker Marta.
The 25-year-old, who has been voted women's world player of the year for the last five seasons, scored both Brazil goals as they drew 2-2 with the USA here in Sunday's quarter-final, but lost 5-3 on penalties.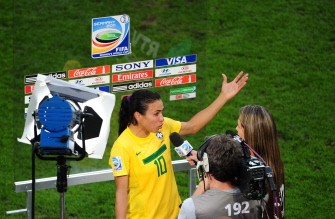 Brazil's striker Marta gives an interview after the quarter-final match of the FIFA women's football World Cup Brazil vs USA
The Americans equalised deep in injury time of extra time when Abby Wambach's 122nd minute header took the game to penalties after Marta had earlier put her side 2-1 up with a strike in the 92nd minute following her 68th minute penalty.
Despite her obvious talent, Marta was booed and jeered several times by the Dresden crowd, just as she has been at all four of Brazil's matches at Germany 2011.
Lima said he was surprised by the reaction from the football-mad German public and said it was a pity Marta's talents will no longer feature in the tournament.
"I actually don't understand why there were so many whistles, she is one of the best players in the world with her creativity and style," said Lima.
"I don't understand it because there were whistles from the first game, she has made a huge contribution to the team, she scored two goals and supported the team, she was a genius.
"It is a shame we couldn't reach the semi-final to show more of what she can do."
Having also netted twice in the group stage win over Norway, Marta now has four goals from Germany 2011 to give her 14 World Cup goals in total to make her the all-time joint top scorer alongside Germany's Birgit Prinz.
But USA coach Pia Sundhage perfectly summed up the difference between the teams as the USA's refusal to give up brought them back from the verge of defeat.
"Marta is the best player in the world, she is phenomenal, but this team is better than one player," said the 51-year-old.