EZEIZA, Argentina, July 2, 2011 (AFP) - Argentina's opening Copa America draw with Bolivia was not a terrible result at all, midfielder Ever Banega said Saturday.
"It was not so bad, the team tried to win. A draw is not such a bad result to start off," Banega insisted. "They hung back and made it almost impossible to score.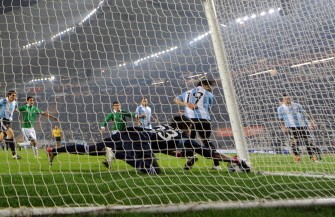 AFP - Argentine goalkeeper Sergio Romero tries to catch the ball during the match against Bolivia
"We had a lot of chances but did not put them away. We must now put Bolivia behind us."
Javier Pastore, a midfielder left on the bench, added that "it is not easy to play the first game in Argentina so the pressure was on but we have to keep beavering away."
The hosts now meet early group leaders Colombia in Santa Fe in a tantalising encounter on Wednesday.