PARIS, Feb 10, 2011 (AFP) - France coach Laurent Blanc sought to cool expectations surrounding his side's potential after seeing them extend their winning run to five consecutive games with a 1-0 defeat of 10-man Brazil.
A goal from star performer Karim Benzema nine minutes into the second half was the difference between the sides at the Stade de France on Wednesday, after Brazil's Hernanes had been sent off following an ugly high kick on Benzema.
It followed France's impressive 2-1 win against England in November and suggests that Blanc's bid to restore Les Bleus to former glories after their World Cup humiliation is firmly on the right track.
France have now won their last five games since the shock 1-0 loss at home to Belarus in their Euro 2012 qualifying opener, but Blanc warned that stellar showings in friendly games would ultimately count for nothing.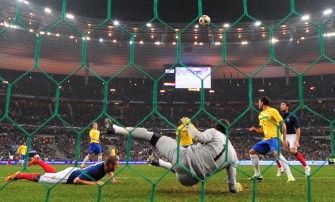 Karim Benzema (L, down) looks up after scoring a goal past Brazil's goalkeeper Julio Cesar (C) on February 9, 2011 at the Stade de France. AFP
"Our objective is qualification for Euro 2012 and these wins will bring us no points," said Blanc, whose side currently top their qualifying group by a point from Belarus.
"But I hope these two matches against England and Brazil will give us more confidence on an individual and collective level.
"For what comes ahead, the big qualifying matches, I hope we will be able to draw on this."
Benzema's goal, a tap-in from Jeremy Menez's right-wing cross, was reward for a performance full of exuberance from the Real Madrid striker, who has endured a difficult second season in the Spanish capital.
Apparently not trusted by Real coach Jose Mourinho, Benzema slipped further down the club's pecking order of strikers when Togolese international Emmanuel Adebayor arrived on loan from Manchester City last month.
The former Lyon starlet's showing against Brazil was brimming with panache and neat touches, however, and he said it had been an unforgettable night.
"We all enjoyed it tonight," said Benzema.
"It's a great victory against a great team. It's a real pleasure to play against Brazil. I've followed them since I was really young.
"Playing against them was a dream, so to score and then to win at the end makes me very happy."
Brazil had looked confident in possession in the game's early stages and caused France several moments of unease with their pressing, until the dismissal of Hernanes changed the game.
Mano Menezes, who experienced his first defeat as Brazil coach against Argentina in November, said he had no complaints about the Lazio midfielder's red card.
"The action was quite hard. I've not seen it again," he said.
"For a friendly match it was a bit hard. It wasn't necessary. It was a mistake by Hernanes. He didn't see Benzema, who came in quickly."
Menezes fielded a youthful side containing just three players -- Julio Cesar, Dani Alves and skipper Robinho -- who featured prominently at the World Cup.
They struggled to get back into the game after Benzema's goal but Menezes insisted that the defeat was not cause to push the panic button and turn to more experienced campaigners.
"I have no doubts about my strategy," he told the post-match press conference.
"Of course you take risks at the beginning. But it would be too easy to call on players like Kaka and Ronaldinho.
"It might resolve certain problems but that's not what we're looking for. We're looking towards the future and in (the) 2014 (World Cup in Brazil) I don't want to find myself without the right players.
"Matches like this, away from home in front of big crowds, will give the players experience and help them forge a stronger spirit."
Robinho said: "We have to accept these two consecutive defeats peacefully, because despite the results, we've generally played well.
"The result is important but Brazil are in the process of doing great things."