SINGAPORE, Aug 12, 2010 (AFP) - Asian Football Confederation president Mohamed Bin Hammam has thrown his support behind the use of goal-line technology and extra assistant referees.
The Qatari, seen as a potential successor to FIFA chief Sepp Blatter, suggested it was an almost inevitable development.
"There must be some technology introduced to define whether the ball went in or not. That must happen," Bin Hammam, a FIFA executive committee member, told AFP.
"We must take into consideration today that with hundreds of cameras in a stadium telecasting the match, they can detect each and every action.
"So people are always going to be negative about referee mistakes.
"It's unfortunate for referees but maybe with introducing two extra referees in a match, it can improve the decision and judgement of referees.
"Goal-line technology and two extra referees can resolve a lot of the issues."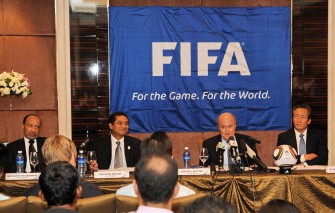 FIFA president Sepp Blatter (2nd R) addresses a press conference along with Zainudin Nordin (2nd L) the president of the Football Association of Singapore, Chung Mong-Joon (R) FIFA Organising Committee chairman and Mohamed Bin Hammam (L), president of the Asian Football Confederation (AFC) on August 11, 2010 prior to the opening match of the Singapore 2010 Youth Olympic Games (YOG) football match in Singapore. AFP
The controversial issue of goal-line technology will be discussed at a meeting of the International Football Association Board in October, according to Blatter.
FIFA have previously rebuffed all demands to use video technology to resolve contentious refereeing decisions, despite it being successfully implemented in other sports such as tennis, cricket and rugby union.
Their rationale has been that it would disrupt the free-flowing movement of the game.
But the issue was forced back onto the agenda after England's Frank Lampard had a goal against Germany disallowed at the World Cup in South Africa, despite replays showing the ball was well over the line.
England suffered another debatable decision in a 2-1 friendly win over Hungary on Wednesday when the linesman ruled that Phil Jagielka had conceded an own goal. Replays suggested the ball was cleared off the line.
Support for the use of two extra assistant referees is also growing.
The system was used in the Europa League last season and will this year be trialled in the Champions League, as well as a handful of other competitions around the world.
Referees will be assisted by two linesmen and two further officials in each penalty area.