HELSINKI, March 16, 2010 (AFP) - Former England captain David Beckham was in "good spirits" and will be up on crutches Tuesday following surgery to fix a ruptured Achilles tendon, his surgeon told AFP.
"The patient is doing well and is in good spirits," orthopedic surgeon Sakari Orava told AFP by telephone. "Today, we will practice walking with crutches."
Beckham twisted his left ankle during the final minutes of an AC Milan Serie A game against Chievo Sunday and limped off the field before being stretchered away in pain and in tears.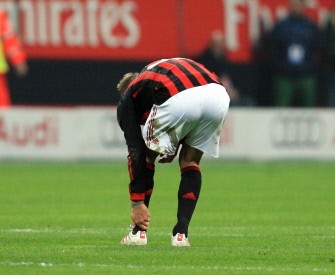 Beckham holds his ankle after an injury during the Italian Serie A football match AC Milan against Chievo on March 14, 2010. AFP photo
The 34-year-old midfielder flew to the western Finnish city of Turku in a private plane Monday for an operation at the sports injury clinic of Mehilaeinen hospital.
Orava said Beckham's leg would be in a cast for three-to-four weeks and in a support for around the same length of time.
"Talk of training and playing is pure speculation," Orava said.
After the surgery Monday night Orava said there was "no chance" Beckham would recover in time to play for England at the World Cup, which kicks off in South Africa on June 11.
Beckham will stay in Finland until Wednesday before flying home to Los Angeles, likely through England, Orava said.
"I recommended him not to get on a long flight to fly across the Atlantic straight away," Orava said, adding this was advice he gave all his patients after such surgery.
Beckham's spokesman Simon Oliveira confirmed to AFP the footballer's wife Victoria would arrive in Finland Tuesday to be with her husband, but Orava said he was not aware of her schedule or of any plans for her to visit the hospital.