LONDON, Feb 17, 2011 (AFP) - Arsene Wenger insisted Barcelona remained favourites to progress to the Champions League quarter-finals after Arsenal came from behind to score a dramatic 2-1 victory over the Spanish giants.
A goal apiece from Robin van Persie and Andrey Arshavin in the final 12 minutes sealed a memorable win for the Gunners after a largely dominant Barcelona had taken a first-half lead through David Villa.
Arsenal's slender advantage gives the Premier League side a fighting chance of progressing when the two teams meet in the second leg.
But while Wenger is adamant that Barcelona will be favourites to prevail, he believes his vibrant young team will be armed with a vital commodity when they enter the Camp Nou on March 8 -- belief.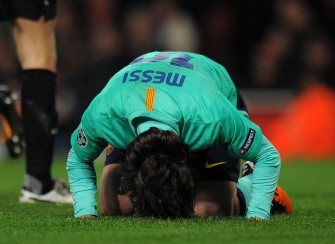 Barcelona's Argentinian forward Lionel Messi gestures during the Champions League match Arsenal vs Barcelona on February 16, 2011 at the Emirates stadium in London. AFP
"We are not the favourites now," Wenger said. "But what is important is we believe we have a chance and we'll go for it. Barcelona are still favourites. "But after tonight we know that we can beat them. And we didn't know that last year," said Wenger, referring to last season's quarter-final, which saw Barcelona crush the Gunners 4-1 in the second leg, 6-3 on aggregate.
"Tonight's result gives us a chance to go to Barcelona with belief. We know that it will be a very difficult game but we will prepare well and be highly focused and try to play our natural game," Wenger said.
"It gives a special lift to my team. Our players have shown their strength and togetherness and this result will reinforce that."
Arsenal's victory was also a vindication of Wenger's unrelenting commitment to attacking football.
While conventional wisdom dictated that the only way to beat Barcelona is via containment, Wenger insisted all along that his side would be true to their instincts and seek to fight fire with fire.
At the Emirates on Wednesday they proved as good as their word, when, despite ceding possession for long periods, they continued to throw men forward on the counter-attack.
When the final whistle blew, Arsenal had two strikers on the pitch, Nicklas Bendtner and van Persie, complemented by a midfield brimming with creative intent -- Samir Nasri, Cesc Fabregas, Jack Wilshere and Arshavin.
"I wanted to go for it offensively," said Wenger, as he explained his risky decision to substitute defensive midfielder Alex Song for Arshavin with Arsenal trailing 1-0 early in the second half.
"We needed to score two goals. I just took a gamble -- it could have backfired to 2-0 or 3-0 but it worked.
"I'm very proud for Arsenal tonight. Because everybody urged us to play differently to our nature and this result will strengthen the belief in our philosophy. That's important."
Wenger is only too aware that one big performance from Lionel Messi, however, could see his team's hopes unravel next month.
The mercurial Argentinian threaded through the pass for Villa's opener and came agonisingly close to opening the scoring after 15 minutes, when he committed Wojciech Szczesny with a lovely feint and beat the Arsenal keeper with a delicate dink, only to see his effort trickle just wide of the upright.
"Who doesn't worry about Lionel Messi?" Wenger said. "When we play in Barcelona that will be one of our tasks. But you never can keep him completely quiet. However we can take encouragement from tonight."
Wenger's counterpart Pep Guardiola said his side had paid the price for failing to convert more than one of the half-a-dozen openings their famously slick passing play presented.
"In general I'm happy with the performance -- the result is the thing I don't like," Guardiola said.
"It was a fantastic match for anyone who likes football. When two teams want to play attacking football its always nice. We're try to turn the tables on them at our place."
Guardiola predicted another classic could be on the cards in three weeks time as his team try to overturn the first leg deficit.
"They are going to attack and we are going to attack," Guardiola said.
"So if you have nothing better to do, I invite you to come to Barcelona because it's going to be a great match."