ZURICH, July 24, 2011 (AFP) - Disgraced Asian football chief Mohamed bin Hammam declared "war" on his former ally Sepp Blatter and vowed to clear his name after being banned for life for attempted bribery.
The former Asian Football Confederation (AFC) president was banned from all football-related activities by FIFA's ethics committee for seeking to bribe Caribbean football officials to vote for him in the presidential election.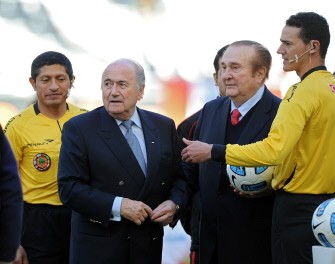 AFP - FIFA President Sepp Blatter (2-L) and CONMEBOL President Nicolas Leoz (2-R) are seen with Colombian referee Wilmar Roldan (R) before the start of the 2011 Copa America third-place match between Peru and Venezuela in La Plata, Argentina on July 23, 2011
The 62-year-old Qatari, who did not attend the two-day hearing on Friday and Saturday, responded to the verdict in sardonic fashion by publishing on his blog a scanned copy of a personal letter sent to him by Blatter in 2008.
In the letter, which Blatter addresses "My dear brother," Bin Hammam highlighted a phrase in which the 75-year-old Swiss had written: "Without you, dear Mohamed, none of this would ever have been possible".
Below the letter were the words: "This is only the battle, not the war...", hinting that Bin Hammam holds Blatter at least partly responsible for his fate and laying the foundations for an all-out battle to restore his reputation.
The charges against Bin Hammam prompted him to withdraw from this year's presidential race, enabling Blatter to triumph unopposed in the June 2 election and secure a fourth consecutive term in office.
Bin Hammam confirmed to AFP that he intended to appeal the ethics committee's decision, firstly to FIFA and then, if necessary, to the Court of Arbitration for Sport (CAS) and the civil courts.
He had already cast doubt on the validity of the ruling in the run-up to the hearing, saying the charges against him were "politically motivated" and accusing FIFA of "bias".
In a post-hearing statement, the head of Bin Hammam's legal team, Eugene Gulland, said FIFA had deliberately leaked information to the media and called on the organisation to publish "a full transcript" of proceedings.
Petrus Damaseb, chair of the five-man ethics committee panel, suggested Bin Hammam had grounds to feel aggrieved when he conceded that the media leaks were "a matter of grave concern".
In any case, Blatter, who has vowed to "steer the FIFA ship into clear, transparent waters", is unlikely to relish the prospect of a wounded Bin Hammam attempting to sabotage his attempts to clean up the organisation's image.
Bin Hammam's ban will create a power vacuum at the summit of the game in Asia, with acting AFC president Zhang Jilong admitting that the news had arrived at an inopportune moment.
"This is a sad day for AFC and Asian football," said Zhang, who is the favourite to succeed Bin Hammam.
"AFC respects world football governing body FIFA's decision and we also acknowledge former AFC president Mohamed bin Hammam's inalienable right to lodge an appeal against the decision.
"AFC has nothing more to say on this particular issue."
He added: "This is a difficult period for us because Asian football is currently facing multiple challenges, the biggest of which is match-fixing.
"I, in my capacity as the acting AFC president, am aware of the urgent need to provide a strong leadership that will work closely with the member associations towards creating a climate of trust and confidence."