BERLIN, Sept 12, 2010 (AFP) - Germany captain Michael Ballack will miss next month's Euro 2012 qualifiers against Turkey and Kazakhstan after a scan on Sunday revealed he has a left knee fracture.
The 33-year-old limped out of Saturday's 2-2 draw with Hanover after just 30 minutes following a heavy tackle and underwent an MRI scan on Sunday morning which revealed the damage.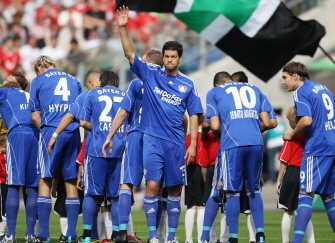 Leverkusen's Michael Ballack waves before the German first division Bundesliga football match Hanover 96 vs Bayer 04 Leverkusen in the northern German city of Hanover on September 11, 2010. AFP
It is the latest injury blow for Ballack, who returned to the club where he established his reputation after not having his contract renewed at English Premier League champions Chelsea at the end of last season.
Having missed the World Cup after damaging ligaments in his right ankle, Ballack was left out of the Germany squad for this month's Euro 2012 qualifiers against Belgium and Azerbaijan.
The match against Hanover was only his third game back as he tries to regain fitness after the ankle injury, but will now miss the qualifiers against Turkey in Berlin on October 8 and Kazakhstan in Astana four days later.
National coach Joachim Loew has said he will select Ballack for the Germany team only when he is fit enough and has proved his form and he faces a race against time to be fit for the friendly against Sweden on November 17.