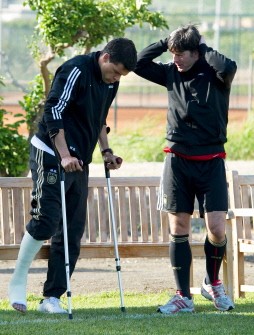 Michael Ballack walks on crutches as he talks with Coach of the German national football team Joachim Loew during a training session on May 18, 2010 in Sciacca, Sicily. AFP photo
BERLIN, May 21, 2010 (AFP) - With Germany bidding for their fourth World Cup title in South Africa, defender Philipp Lahm admits there is an air of expectation on Joachim Loew's side to prove themselves.
After victories in Switzerland in 1954, on home soil in 1974 and in Italy in 1990, there is expectations east of the Rhein, despite the loss to injury of skipper Michael Ballack, that another World Cup trophy awaits in Johannesburg on July 11.
Lahm says consistent success has bred a culture of expectation in Germany with the current squad eager to add to the legacy.
"We've been very successful in the past, and that's an inspiration to the next generations," said Lahm.
"You only have to look at Germany's record at major tournaments.
"We won the World Cup in 1954, '74 and '90, and the European Championship in '72, '80 and '96.
"We've grown up with the conviction that Germany are always good enough to reach the final.
"We were third at the World Cup and second at Euro 2008, so our goal for 2010 is to make the final and win the trophy."
While Germany finished runners-up at the 2002 World Cup finals in Japan and Korea, third when they hosted the tournament in 2006 and lost to Spain in the Euro 2008 final, they have largely been untested in the two years since Vienna.
They beat Russia home and away to qualify for the World Cup, including a 1-0 win in Moscow last October, but back-to-back home defeats by England in November 2008 and minnows Norway in February 2009 caused concern.
Germany have an uncanny knack of coming into form during major championships, but Loew has suffered a series of set backs in the year leading to South Africa 2010.
The tragic suicide of Hanover goalkeeper Robert Enke in November 2009 and injury to Leverkusen's Rene Adler last month means Loew looks set to rely on third-choice goalkeeper Manuel Neuer in South Africa.
There are also concerns up front with first-choice strikers Lukas Podolski and Miroslav Klose both failing to impress in the Bundesliga.
Podolski, 24, voted the best young player at the last World Cup, failed to make the grade at Bayern Munich whom he joined after Germany 2006 while a move back to his former club Cologne has yielded just two goals all season.
Ex-Germany goalkeeper Uli Stein even recently accused Podolski of being 'lazy'.
Likewise, Klose, 31, has failed to impress this season with just three goals for Bayern having lost his place in the first team to striker Ivica Olic and the Croatian's purple patch has helped Munich reach the Champions League final.
But both Podolski and Klose have both played a big part in getting Germany to South Africa with Klose's hat-trick in Helsinki rescued a 3-3 draw in September 2008 and he scored the winner against Russia in Moscow in 2009.
Podolski's late equaliser in Hamburg against Finland last October meant Germany finished the World Cup qualifiers unbeaten.
Klose's reputation in the Germany shirt is unquestionable.
His record of 48 goals in 93 internationals puts him third in the Germany all-time scoring chart, behind only living legend Gerd Muller (68 goals) and former GDR goal-getter Joachim Streich (55).
Ballack's withdrawal after picking up a bad ankle injury for Chelsea in the FA Cup final though will be hard to swallow with his vast experience of 98 caps and 42 goals deemed as essential to Loew's plans.