BERLIN, Aug 22, 2010 (AFP) - Midfield star Michael Ballack made his return to the Bundesliga on Sunday to help Bayer Leverkusen open their season with a 2-0 win at Dortmund, but admitted he is playing for his Germany place.
The 33-year-old is back in the Bundesliga after four years in the Premier League with Chelsea after an ankle injury ruled him out of last month's World Cup, where Germany finished third.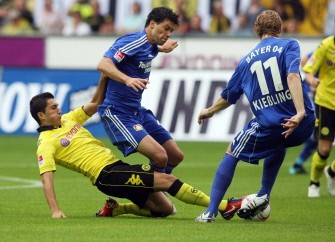 Dortmund'sNuri Sahin (L) vies for the ball with Leverkusen's Michael Ballack (C) and striker Stefan Kießling (R) during the German first division Bundesliga football match Borussia Dortmund vs Bayer Leverkusen in the western German city of Dortmund on August 22, 2010. AFP
Having lost the captaincy to Philipp Lahm, Ballack admits he is not sure he will be included in the Germany squad for next month's Euro 2012 qualifiers with national coach Joachim Loew set to name his squad on Friday.
"I'm still not 100 percent, but I think I will be part of the team," said Ballack after his Bundesliga return.
Despite running Leverkusen's midfield, he played no hand in the two goals by Swiss midfielder Tranquillo Barnetta and Brazil's Renato Augusto.
Leverkusen struck early as Barnetta netted in the 19th-minute before Renato Augusto struck the second just three minutes later to give Leverkusen the three points.
Earlier, VfB Stuttgart suffered a shock defeat by Mainz when their Tunisia striker Sami Allagui, who was making his debut, opened the scoring in the 26th-minute as he planted his shot in the left corner to stun Stuttgart.
Fellow debutant and striker Morten Rasmussen of Denmark then scored the second just two minutes after the half-time break as the home side took the three points.
On Saturday, Hoffenheim got their season off to a flying start when they destroyed Werder Bremen 4-1 to set the early pace.
A late goal by ex-Manchester United striker Ruud van Nistelrooy gave Hamburg three points and sealed a 2-1 win over ten-man Schalke 04 on Saturday night after Royal Blues defender Benedikt Hoewedes was sent off after an hour.
Earlier, Bundesliga history was made in Cologne as Lebanon defender Youssef Mohamad earned the fastest ever red card when he was sent off just 92 seconds into the new season in the 3-1 defeat against newly-promoted Kaiserslautern.
In the other results, Moenchengladbach drew 1-1 at home to Nuremberg as Cameroon striker Mohamadou Idrissou equalised for the hosts.
Hanover beat Frankfurt 2-1 while newly-promoted St Pauli scored three goals in the last eight minutes to seal a 3-1 win at Freiburg.
On Friday, ex-England manager Steve McClaren and his Wolfsburg side were denied a point as Bayern Munich's Bastian Schweinsteiger latched on to Franck Ribery's cross to seal a 2-1 win with seconds remaining.
Bayern made the perfect start as Germany's Thomas Mueller -- the top-scorer at last month's World Cup -- scored the opening goal after just nine minutes, only for Edin Dzeko to equalise after the break, before Schweini's winner.