As many as 274 badminton players across the world will compete in the Vietnam Grand Prix 2010 in Ho Chi Minh City on October 5-10, the organizers announced Thursday.
Last year saw 191 players and the year before 160, according to Ms. Huynh Ngoc Lien, vice chairwoman of the Ho Chi Minh City Badminton Association.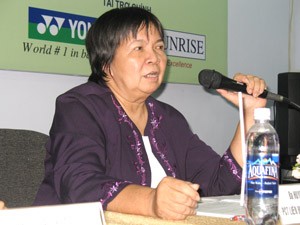 Ms. Huynh Ngoc Lien speaks at a press conference September 23 in the city (Photo: Tuong Thuy)
She said at a press conference Thursday that world No. 8 Nguyen Tien Minh of Vietnam is the first seed in the men's singles of the US$50,000 tournament this year.
The second seed is world No. 37 Kurniawan Tedjono of Indonesia, who had earlier lost to Minh two times during international tournaments.
In Tokyo on the same day, Minh went through to the quarters of the Japan Open tournament after beating Denmark's Jan Jorgensen 2-0 (21-11, 22-20).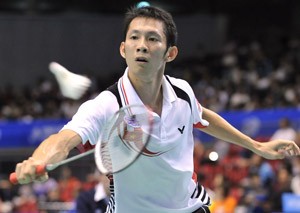 Vietnam's Nguyen Tien Minh returns a shuttlecock to Jan Jorgensen of Denmark during the men's singles second round match of the Japan Open badminton tournament in Tokyo on September 23, 2010. AFP
This year, the 274 players competing in the Vietnam Grand Prix come from Australia, Austria, Cambodia, China, Hong Kong, India, Indonesia, Japan, Kazakhstan, Laos, Malaysia, the Philippines, South Africa, Russia, Singapore, Taiwan, Thailand, USA, Vietnam and the Wales. Among them are 170 men.
Among the women, Ms. Lien said world No. 1 Ma Jin of China would join but would not compete in the women's singles. She would play in the women's doubles with her Chinese fellow Zhong Qianxin.
The biggest foreign delegation is 58-strong Malaysia, followed by 48-strong Indonesia, she added.
The co-organizers are the Vietnam Badminton Association, HCM City Badminton Association and HCM City Department of Culture, Sports and Tourism.
Ms. Lien said for the first time of the Vietnam Grand Prix history, the organizing committee earned a television rights contract. Under the deal, its television partner – IEC Sport in Hong Kong – will sell broadcast rights overseas.
The tournament will take place at Phan Dinh Phung Indoor Stadium in District 3.