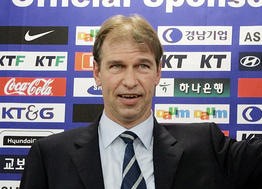 Pim Verbeek
SYDNEY, March 22, 2010 (AFP) - Australia's coach Pim Verbeek said on Monday he would step down following this year's football World Cup, after steering the team to the tournament in South Africa and their highest ever FIFA ranking.
Verbeek, who has also guided Australia to next year's Asian Cup in a successful two-year stint, said he had decided not to renew his contract, which expires after the June-July World Cup.
"It has been a very difficult decision for me after more than two years but it is time for me to look for a new challenge," Verbeek said in a statement.
"I have enjoyed every minute of being head coach of Australia and we achieved some fantastic results including qualifying for the World Cup and the Asian Cup."
Verbeek took the helm in late 2007 after the departure of caretaker Graham Arnold. In South Africa, Verbeek will be trying to outdo fellow countryman Guus Hiddink, who took Australia to the 2006 World Cup's last 16.
Verbeek's Australia reached 14th in the FIFA rankings in September, their highest ever placing. The Dutchman has been head coach for 27 matches, winning 15, drawing eight and losing four, with the team scoring 34 and conceding 14 goals.
"It is a good time to make this announcement so we can now focus completely on preparing everything perfectly for the upcoming World Cup in South Africa," he said.
"We will do everything right to prepare for this tournament to get the best result possible."
Verbeek said his decision to leave had been influenced by the time spent away from family and friends in the Netherlands and, while he refused to reveal his future plans, hinted that his next position might be in Europe.
"There have been a few interesting possibilities," he told reporters.
"I still think I have eight to 10 years left (of coaching). The next decision will definitely depend on the family situation."
FFA chairman Frank Lowy led praise for Verbeek, a former coach of South Korea, whom he said had "earned the respect of everybody in football in this country and around the world".
"He has been the consummate professional in every aspect of his role and has led our national team with distinction here and overseas."
"Under his leadership the team has achieved everything we aimed to achieve and I expect he will have the team ready to perform at its best in South Africa."
FFA chief executive Ben Buckley said he would be sad to see Verbeek leave, but wished him all the best as he announced that Australia will "look to every corner of the world" for his replacement.
"There are processes and planning in place to secure a successor for Pim and we will step up those activities now that it is clear that Pim will not be with us after South Africa," he said.
Buckley said his organisation would prefer a four-year appointment, saying "our priority and preference" is to get a coach that will focus beyond the Asian Cup towards the World Cup.
"To continue our momentum, to continue the standards we have reached, we have to move as quickly as possible," he said.