DOHA, Jan 22, 2011 (AFP) - Australia and South Korea both needed extra-time goals to overcome holders Iraq and Iran 1-0 respectively on Saturday and book their places in the Asian Cup semi-finals.
A 117th-minute strike from Harry Kewell at Al Sadd Stadium put the Socceroos into the last four for the first time and a showdown with Uzbekistan for a place in the final awaits on Tuesday.
South Korea will face East Asian neighbours Japan on the same day after substitute Yoon Bit Ga-Ram hit their winner in the 105th minute, as the two-time champions stepped up their drive for a first title since 1960.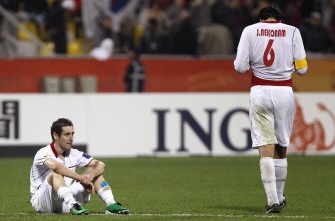 Iran's forwards Mohammad Reza Khalatbari (L) and Mohammad Reza Khalatbari (R) reacts after they were defeated by South Korea on January 22, 2011. South Korea won 1-0. AFP PHOTO
With the exception of surprise package Uzbekistan, all of the semi-finalists played at last year's World Cup in South Africa and their experience and pedigree have come to the fore in Doha.
Galatasaray's Kewell was Australia's hero, meeting a pinpoint cross from Matt McKay and angling his header past Iraqi goalkeeper Mohammed Kassid to settle a match that could have gone either way.
It avenged their 3-1 loss to Iraq in the group stage four years ago, when the war-torn country went on to win their first ever continental crown.
"It's definitely a great achievement, even though we went into extra time," said Australia's German coach Holgier Osieck.
"We showed great character in this game. It was delightful for the coach to watch. Basically, we should have done it in the regular 90 minutes. Iraq played better in extra time."
Iraq coach Wolfgang Sidka, who is also German, was disappointed not to kill off the game and stay in the tournament.
"Certainly we are disappointed. But the way we played was 100 percent okay," he said.
"We created more chances in extra time and it was a very exciting fight for both teams."
Former Liverpool and Leeds star Kewell was in the thick of the action and had several chances before calmly converting his header as the clock ticked down.
He said Australia deserved to win.
"They made it hard. It was a great game to play in but we would have preferred not to go into extra time. It was a job well done. I'm proud of the boys and we deserve to be in the semi-finals," he said.
Remarkably, regional giants South Korea and Iran had met at the quarter-final stage at the four previous Asian Cups, with a 2-2 record.
Korea took the honours this time, with K-League young player of the year Yoon, 20, doing the damage with a top-notch goal, weaving his way across the face of the box then hitting a curler past the goalkeeper.
"The players were willing to sacrifice themselves for the team and we showed good organisation. But the most important thing the players learned was to enjoy controlling the game," said Korean coach Cho Kwang-Rae.
On Friday Cho said he expected Iran -- under the guidance of former South Korean assistant coach Afshin Ghotbi -- to try and foul his side at every opportunity.
Ghotbi dismissed that remark, saying it was proof Cho was running scared, but Manchester United's Park Ji-Sung was flattened twice in the opening 10 minutes as Iran played a physical game.
Ghotbi admitted it was hugely disappointing for the three-times champions, who have not won the Asian Cup since 1976.
"In the first-half we didn't play like we can, that maybe had to do with the Koreans' quality and our own tension," he said.
"But as the game wore on we got better and unfortunately we lost a goal at the worst moment, but it was a fantastic finish."
Uzbekistan made the semis by beating Jordan 2-1 on Friday, while Japan scored a last-minute winner to end hosts Qatar's tournament 3-2.