MELBOURNE, May 26, 2010 (AFP) - The Socceroos left Australia on Wednesday with high hopes of making an impact at next month's World Cup in South Africa.
The Australian squad will be the first overseas team to arrive in the host country and coach Pim Verbeek has scheduled the first day of training in Johannesburg on Thursday.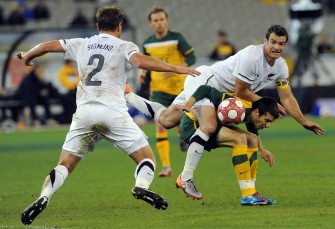 New Zealand captain Ryan Nelsen (R top) lands on top of Nikita Rukavytsya of Australia (R bottom) as Ben Sigmund of New Zealand (L) looks on during their friendly international football match in Melbourne on May 24, 2010. AFP photo
Captain Lucas Neill told an official farewell at Melbourne Airport that Australia were heading to South Africa with their confidence high.
"We are going to go out and do you proud and let's hope we can have another rollercoaster of excitement like the last journey was," Neill said.
Australia made it through the group stage at the 2006 tournament in Germany before being eliminated by eventual champions Italy through a disputed last-minute penalty in the second round.
Fulham goalkeeper Mark Schwarzer, another veteran of the 2006 campaign, said the excitement of playing at the showpiece was just as great the second time around.
"If you don't get excited about days like today, you'll never get excited about football or in life in general," he said.
"It's the pinnacle of anyone's career obviously. Having the fortunate position of being in the last World Cup and having that experience of what it was like, to knowing now what lies ahead to a degree.... I'm very, very excited about it."
Schwarzer said some critics gave Australia little hope of advancing from their tough group, including three-time champions Germany, Ghana and Serbia.
"A lot of people have already written us off and people continue writing us off," he told reporters.
"That's something you get used to and over the years we've had to deal with that.
"In a way, I think we're going to go there with the expectation probably not as high as people thought it would be. We're happy enough with that, we're happy to go there and be able to hopefully show people that they were wrong."
Verbeek is taking a 28-man provisional squad to South Africa and must trim his final selection to 23 by June 1.
The Socceroos will have warm-up matches against Denmark on June 1 and the United States on June 5 ahead of their World Cup opener against Germany in Durban on June 13.
The Australians head to South Africa after beating World Cup rivals New Zealand 2-1 in Melbourne on Monday.