SANTA FE, Argentina, July 16, 2011 (AFP) - Uruguay had their Argentinian-born goalkeeper Fernando Muslera largely to thank for taking them past the hosts Saturday and into the Copa America semi-finals.

Muslera made a string of fine stops, including a vital penalty shootout save from Carlos Tevez, to deny an Argentina side desperate to win their first trophy in 18 years.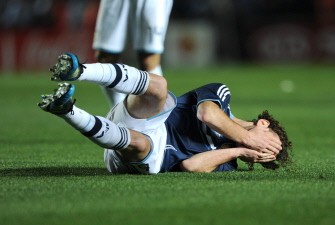 AFP - Argentine defender Gabriel Milito reacts on the groun during their quarter-final match against Uruguay
Instead it is the celeste, the sky blues, instead of the albiceleste, who move into a Tuesday semi-final with Peru after a 5-4 shootout success.

The Uruguayans will now look to win a record 15th Copa- taking them clear of the Argentinians, with whom they currently share the mark.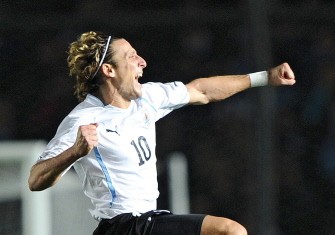 AFP - Uruguayan forward Diego Forlan celebrates after teammate Martin Caceres (out of frame) scored the final penalty kick to beat Argentina
If the Charruas do carry off the cup they will look back to a the superb showing by former Lazio keeper Muslera, who started off his career with Montevideo Wanderers but who was actually born in Argentina's capital Buenos Aires.
The 25-year-old, who has agreed to sign for Turkey's Galatasaray after four years in Rome, says there are no divided loyalties and he knows which side of the River Plate he belongs on when it comes to international football.
"I grew up in Uruguay so I am Uruguayan," he told reporters with a grin after saving Tevez's effort to take his side through.
"It was a dream match for us. We are really overjoyed," said Muslera.
Uruguay coach Oscar Tabarez echoed the sentiment.
"We are very happy - we knew the team was improving," said Tabarez, under pressure after a slow start to the tournament a year after his charges reached the World Cup semi-finals playing stylish football with veteran Diego Forlan at the hub of much of their creative play.
"With so much history riding on this one and against such classy opponents as well as with the crowd against us we had to see how we would do. And we are very satisfied.
"When the chips were down we showed our colours as we did at the World Cup. We have now reached our minimum pre-tournament objective," said Tabarez, who forecast that "Peru will give us a tough game."
Argentina counterpart Sergio Batista said he had to recognise that the team had failed to spark.
"We did not play the way I had hoped and Uruguay turned in an admirable showing. It did not turn out as I hoped," said the man who replaced Diego Maradona as coach after a World Cup quarter-final thrashing by Germany but who has been unable to end the team's long wait for senior level silverware.
Argentina's media were already sharpening the knives as they picked over the debris of the defeat.
"Argentina's dream died in the shooutout," mourned Clarin daily on its website, while Ole sports daily lamented what it termed "a national failure."