BUENOS AIRES, July 3, 2011 (AFP) - The head of Argentina's Football Association (AFA), Julio Grondona, on Sunday praised striker Lionel Messi, but criticised his squadmates in the wake of their disappointing opening Copa America draw with Bolivia.
Messi has often been criticised in his homeland for failing to show his superlative Barcelona form in the national side and the media even question his loyalty to a country which he left for Catalonia as a young teen.
But Grondona told Radio Del Plata: "Messi always plays well, never badly - which is what the others around him were doing."
Coach Sergio Batista had sent out an attacking side to beat the Bolivians but Messi and strike partner Carlos Tevez drew a blank and it was left to sub Sergio Aguero to rescue a point at La Plata.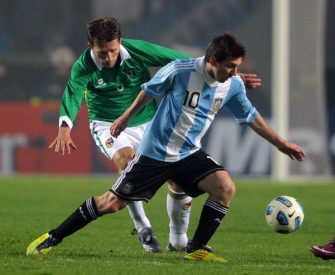 AFP - Lionel Messi (R) vies for the ball with Bolivian defender Ronald Rivero during a match in La Plata on July 1, 2011. The match ended tied 1-1.
For Grondona, Messi was forced to forage too deep.
"As the ball did not get through to Messi he had to drop back to pick it up," Grondona complained.
But he also noted that it is "difficult to start off against a team which has nothing to lose."
Now Argentina have to chase down early Group A leaders Colombia, whom they meet Wednesday in Santa Fe before going up against special guests Costa Rica.