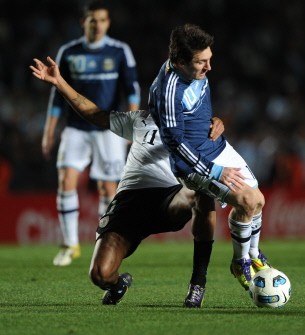 Argentine forward Lionel Messi (R) vies for the ball with Uruguayan midfielder Alvaro Pereira during a 2011 Copa America quarter-final on July 16, 2011. AFP
BUENOS AIRES, July 21, 2011 (AFP) - After being knocked out by Uruguay in the quarter-finals, fans of Argentina have drawn a line under the Copa America final.
The hosts had hoped to bag a record 15th title but instead it is neighbour Uruguay who will themselves go for a 15th crown in Sunday's final against Paraguay.
While Buenos Aires restaurants and cafes begin to fill with fans of the finalists, the city wore a general air of indifference Thursday among disillusioned home fans.
"Anybody but Uruguay. Just anyone but them," groaned office caretaker Juan as he contemplated a triumph for the Charruas from across the River Plate - which for locals would hurt almost as much as seeing Brazil carry off the crown on Argentinian turf.
With the Uruguayans in the trophy match and overwhelming favourites, it is scant consolation to home fans that the Brazilians also went out in the quarter-finals and also little consolation that the auriverde's exit means they cannot inflict a third straight final defeat on this year's hosts.
"Paraguay got lucky" in beating Venezuela after a semi-final shootout, said sleepy local Osvaldo Garcia after seeing the highlights following a dinner with acquaintances on Argentina's "Friends Day" which coincided with Wednesday's second semi-final.
But the chitchat in the city which continued on into the small hours primarily concerned the upcoming second round of Buenos Aires' mayoral election, now a much bigger topic of conversation for "Portenos" - local residents - than a Copa they have now mentally laid to rest.
Football fans and media commentators have turned the Copa page and looking forward to the looming new league season just days away, with many in Buenos Aires keen to see if just-relegated River Plate can bounce back into the top flight.
And fans of the national side just hope Sergio Batista's squad can find the form that went missing over the past three weeks when 2014 World Cup qualifiers start in October.