BUENOS AIRES, July 8, 2011 (AFP) - Argentina's faltering Copa America campaign was compared to the doomed Titanic on Thursday, with coach Sergio Batista struggling at the helm of the under-performing hosts.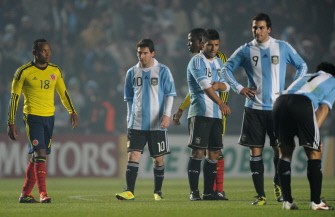 Colombian defender Camilo Zuniga (L) and Argentine forwards (L to R) Lionel Messi, Sergio Aguero and Gonzalo Higuain gesture at the end of their Copa America matchon July 6, 2011. The match ended 0-0. AFP
Batista should have been on to a good thing when he replaced Diego Maradona after the World Cup.
After all, had not Maradona's men laboured to qualify for the finals in South Africa in the first place, losing 6-1 to makeweights Bolivia, before, once there, being flattened by Germany in the quarter-finals?
Maradona's trials and tribulations and personality clashes with powerful Argentine Football Association (AFA) president Julio Grondona, who finally forced him out, were well-documented.
But the star of Argentina's 1986 World Cup win did bring one thing to the table that Argentina sorely lack on the basis of their Copa America draws with Bolivia and Colombia: passion for the cause.
"They don't really seem to have a leader with a leader's personality," former international goalkeeper Carlos Bossio observed on Thursday as hungry media picked over the debris of the horror show against Colombia.
"He is leading the Titanic towards the iceberg," was the brutal assessment of Spanish sports daily AS.
On the plus side, there was a clean sheet, unlike in their 5-0 drubbing by Colombia in a 1993 World Cup qualifier that marked the start of an 18-year trophy drought at senior level.
And there were no missed penalties, unlike Martin Palermo's hat-trick of spot-kick blunders in the 1999 Copa against the 'cafeteros.'
Yet something was missing in a team that on paper should be world beaters with Lionel Messi at its hub.
Striker Carlos Tevez admitted candidly that "the booing hurts" after the Santa Fe crowd gave free rein to their frustration, while defender Gabriel Milito added: "It hurts, but we have to deal with it. We know we are not living up to expectations. We have to get a grip.
"But we have another game to win," he added of Monday's now vital final Group A encounter at Cordoba.
Santa Fe's Brigadier Estanislao Lopez stadium is known as the 'elephants' graveyard' owing to several domestic shock results there in the past.
And if a major improvement is not forthcoming against Costa Rica, then Argentina are likely to find their hopes of a record 15th Copa title prematurely buried.
However, given that the two best third-placed sides in the competition will progress another draw may just prove sufficient.
Batista must wonder what he has done to displease the footballing gods, and fans shouting for Maradona's return in the final minutes of the Colombia game clearly have a view on that.