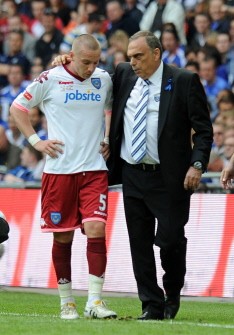 Portsmouth manager Avram Grant (R) consoles player Jamie O'Hara after they lost 0-1 to Chelsea during the FA Cup Final football match at Wembley on May 15, 2010. AFP PHOTO
LONDON, May 16, 2010 (AFP) - Avram Grant blasted the Premier League's powerbrokers for their treatment of Portsmouth after his side's turbulent season ended with an FA Cup final defeat against Chelsea.
Grant's team were beaten 1-0 at Wembley on Saturday after Pompey midfielder Kevin-Prince Boateng missed a penalty just four minutes before Didier Drogba scored Chelsea's winner.
Fittingly the Fratton Park outfit kept fighting until the final whistle of a campaign marred by the financial chaos which led to administration and a nine-point penalty that sealed the team's relegation to the Championship.
Grant believes his players' efforts in reaching the final against the odds and their gritty displays in the Premier League after relegation was already confirmed should have been rewarded with a place in Europe.
With Chelsea having won the double, the cup losers would normally have been guaranteed a Europa league spot.
However, Portsmouth - who are over 130 million pounds in debt - failed to apply for their licence in time and the Premier League refused to support them, leaving Grant to bemoan his club's treatment.
"Each one of the Premier League needs to come and shake hands with the players and say 'You saved the pride of the English league'," Grant said.
"But they punish the players, they punish the club. It makes me angry.
"I will fight against something I think is wrong. You saw what Portsmouth did on the pitch here.
"They should send a letter to the players saying thank you. You saved us, you will be in Europe next season and we will give each one of you a medal because you were good.
"Find the people that did something wrong and punish them. The club and the fans deserve to be in Europe next season.
"The English league shot itself in the foot. The players respected the Premier League when the Premier League didn't respect the players."
Saturday's Cup final is likely to be Grant's final match in charge of Portsmouth.
The former Chelsea boss is already a target for managerless West Ham and has received several other job offers, but he refused to elaborate on his plans for next season.
Asked if he would be staying at Fratton Park, he said: "I'm not thinking of this now. I am waiting to see what is the future of the club.
"If the club wants to do like Newcastle and keep all the players and try everything to continue then I'm still waiting but not for long. If someone will not buy the club they will have a problem."
Grant felt his side could have won the cup for the second time in three years if Boateng had managed to bury his penalty.
Instead Drogba made them pay and Grant was once again left to reflect on what might have been.
The Israeli, who lost the Champions League and League Cup finals during his brief reign at Chelsea, said: "We deserved more. We had good chances at the right time. Chelsea are a good team but Portsmouth can be proud of this.
"It is a sad day but a very proud day. We forced them in the last 10 minutes to waste time."