LONDON, April 12, 2010 (AFP) - Chelsea manager Carlo Ancelotti insists he won't let Sir Alex Ferguson's mind games distract his side from pressing home their advantage in the Premier League title race.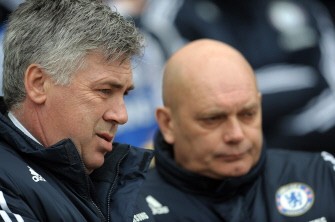 Carlo Ancelotti (L). AFP photo
The Blues can go four points clear at the top of the table with a win over Bolton at Stamford Bridge on Tuesday and Manchester United manager Ferguson believes the match represents an "easy" fixture for Ancelotti's team.
Ferguson also admitted Chelsea are firm favourites to win the title in the aftermath of his side's 0-0 draw at Blackburn on Sunday -- a result that left the champions one point behind the leaders having played a game more.
But Ancelotti laughed off Ferguson's comments as a mischievous attempt to put the pressure on Chelsea going into their final five matches of the season.
"I hope that Alex is correct (that it is an easy match)," Ancelotti said. "Maybe before you can say it will be easy, but I haven't played an easy game this season.
"Blackburn drew against United and that was a good result for us, but only if we win on Tuesday.
"No matches are easy, even if you go out and score a lot of goals in the game itself. No, it's mind games. Ferguson is clever.
"On paper we are favourites against Bolton, but only on paper. It's normal that Chelsea will win in theory, but we need to go out and achieve this."
However much Ferguson tries to influence events, it is clear Chelsea hold the destiny of the title in their hands.
If the west London team can win their remaining fixtures, they will win the English crown for the first time since 2006.
They could also clinch a first ever league and FA Cup double if they beat already-relegated Portsmouth in the FA Cup final on May 15.
But Ancelotti has seen his team slip several times this season when they have seemed to be cruising and he has warned them to guard against complacency.
"The title is in our hands. If we are able to do our best, to maintain this level, we can win it," Ancelotti said.
"We are excited because we are involved in the most important competitions in England.
"We have real possibilities to win them, but we know also that there are a lot of games. Five games are not too much, but they are important.
"Now is not the moment to think 'If we win the double' or not. The most important thing is to stay focused game by game. Our minds are focused on the Bolton game. Nothing else.
"We don't want to think about what might happen in a month. We have to wait, stay calm and focused. And on Tuesday we have to improve our position and send United four points away. That's the most important thing."
Meanwhile it has been revealed that John Terry has not apologised to James Milner for an ugly foul on the Aston Villa midfielder in Saturday's 3-0 FA Cup semi-final win.
Chelsea skipper Terry was booked for his high tackle on Milner but Villa boss Martin O'Neill called the challenge "horrendous" and demanded an apology from the Chelsea captain.
Terry tried to speak to his England colleague after the game but found Villa's dressing room locked.
The defender exchanged SMS messages with Milner on Sunday but it is understood he did not feel the need to say sorry.
A spokesman for Chelsea said: "They texted each other last night and John was checking to see if he was okay. He didn't say sorry."
Ancelotti added: "I saw the tackle on the television. John touched the ball before making contact with Milner.
"I know that Terry called Milner and, for Milner, it was okay. I think the decision of the referee was right.
"For him, I don't think it was a problem to say sorry. It was just a tackle. I know O'Neill was upset but there's no news."