LONDON, March 23, 2010 (AFP) - Chelsea manager Carlo Ancelotti has set his side a target of 86 points to win the English Premier League title this season.
The Blues are currently third, on 65 points, but a victory away to bottom of the table Portsmouth on Wednesday would leave them just a point behind leaders and reigning champions Manchester United with seven league games of the season to play.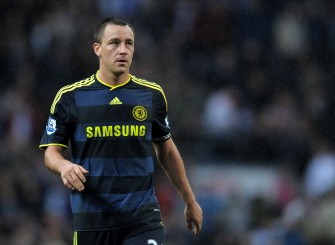 Chelsea's English defender John Terry reacts as he leaves the field after a 1-1 draw with Blackburn Rovers on March 21, 2010. AFP PHOTO
Chelsea, however, will first be looking to bounce back quickly from the disappointment of dropping two points in a 1-1 draw away to Blackburn Rovers last weekend when they take the field at Fratton Park on Wednesday.
"I like statistics and I think that, in the past, with 86 points every team has won the title," Ancelotti said on Tuesday. "I think that we need to get 86 points to win.
"We have less opportunity to win after last week because we lost two points at Blackburn, but we can have a chance again to win this title and we will do everything we can to do so. It's very important for us," the Italian added.
"Now I want to believe we can win the championship and I want to stay focused on my job and give my players knowledge to win their next games.
"I always said that I want to give respect to my players and I want to have respect. I think this is the right behaviour and I think that, this season, everything is right with the players. I am happy with my players' attitude.
"We are disappointed about the last matches. We are out of the Champions League and lost our position at the top of the table, but everyone has kept putting in the right behaviour.
"The players, the club, we want to stay together at this difficult moment. This is the best thing to do at this particular moment."
Chelsea's last 16 exit from the Champions League at the hands of Inter Milan led to speculation Ancelotti would have to win a trophy this season or face being sacked by Roman Abramovich, the Blues Russian billionaire owner.
But Ancelotti insisted: "My future is definitely at Chelsea next season.
"I can confirm that. I have two more years of contract and I have no problem confirming this."
Ancelotti added he expected England midfielder Joe Cole to still be at Stamford Bridge next season even though Chelsesa have yet to offer the player, out of contract at the end of this campaign, a new deal.
"He will be here next season because the player wants to stay and the club wants to keep him in the squad," Ancelotti said.
"He's doing a very good job, he's very professional and he has a very good relationship with his other team-mates.
"It's a very important moment for him and the other players to show his quality to stay in the squad for the World Cup with England.
"He wants to play, I know that, and he's doing everything he can in training to show me his quality. Sometimes he's played and sometimes he's stayed out, but that's what happens at the big teams."