LIVERPOOL, England, May 3, 2010 (AFP) - Carlo Ancelotti kept his feet firmly on the ground after Chelsea moved to the brink of claiming the Premier League title with a 2-0 win over Liverpool.
Manchester United's 1-0 victory at Sunderland just hours after Chelsea's success at Anfield on Sunday ensured the title race will go down to the wire.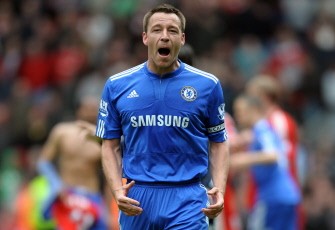 Chelsea's John Terry celebrates after their Premiership football match against Liverpool at Anfield in Liverpool on May 2, 2010. AFP PHOTO
But Ancelotti's team will secure their first title for four years if they defeat Wigan in next Sunday's final round of fixtures after goals by Didier Drogba and Frank Lampard swept aside weary Liverpool.
"I am happy because it was a difficult game. It was the key game I think for the fight for the title and we played very well," said Ancelotti, who has now masterminded home and away league wins over Manchester United, Arsenal and Liverpool in his first season in charge at Stamford Bridge.
"We deserved to win. We did a fanastic job because there was a lot of pressure on us in this game. But we controlled our emotions," Ancelotti added.
"It was a little bit difficult in the first half but in the second half we did better.
"Now the team is fit and in good physical condition, good mentality ahead of next week's game.
"I always said the title would be decided at the end of the season."
Ancelotti admitted that Steven Gerrard's uncharacteristic error that allowed Drogba to score helped Chelsea take a massive step towards the title.
"The goal changed the game because we had more confidence after that," added the Italian.
"As for Lampard, he has fantastic skills to move into the box at the right time."
Lampard made sure of the points and the visitors could, and should, have won by a more handsome margin as they coped comfortably with the pressure of such a crucial clash.
Meanwhile, Rafael Benitez added to uncertainty surrounding his commitment to the club after failing to assure supporters he will still be the Liverpool manager next season.
Benitez, who has been linked with Juventus, is due to meet the club's new chairman Martin Broughton in the next few days.
The Spaniard, who celebrates his sixth anniversary at Anfield next month, waved to supporters at the end of the game, Liverpool's final home match of the season.
Asked afterwards whether he could give any assurances that he will still be in charge after the summer, Benitez said: "I prefer to concentrate on the next game and I will try to see the chairman.
"I have four more years on my contract and we will wait and see.
"I have been talking about all the speculation for the last two or three weeks. We have another game to play and I prefer to talk about that now.
"I will not talk too much about the future."
Liverpool have failed to win any silverware since they won the FA Cup in 2006 and their remaining hopes of addressing that this season vanished last Thursday when they were knocked out of the Europa League by Atletico Madrid.
"It has been very disappointing," added Benitez. "Everyone was expecting us to be top of the table."
Despite early attempts by Salomon Kalou and Nicolas Anelka, it was Liverpool who came closest to breaking the deadlock in the opening exchanges as Alberto Aquilani went close with a cracking 25-yard effort that clipped the top of the bar.
But Gerrard's clanger 12 minutes before half time brought Chelsea within touching distance of the title.
Gerrard, under no pressure whatsoever, attempted a needless back pass that provided Drogba with an invitation to pounce, round Jose Reina and slot home in front of the Kop.
Lampard sealed a priceless victory in the 54th minute, the England midfielder sliding home to meet Anelka's low cross.