LONDON, Aug 7, 2010 (AFP) - Carlo Ancelotti wants Chelsea to claim an early psychological advantage over Manchester United by defeating their title rivals in Sunday's Community Shield clash at Wembley.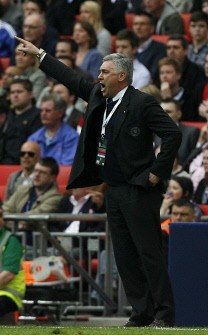 (AFP file) Ancelotti
The last three winners of this prestigious pre-season friendly have gone on to lift the Premier League trophy, with Ancelotti's side beating United on penalties last season, and the Chelsea boss believes it is important to seize the momentum ahead of the new season, which kicks off on August 14.
With Chelsea pipping United to the league last season, as well as winning the FA Cup, and United securing the League Cup, the two teams will walk out at Wembley as holders of all three English domestic trophies.
It would be little surprise if Ancelotti and United manager Sir Alex Ferguson are duelling for all the major honours again this season, giving the friendly fixture an added edge.
"I think that for both teams it is an important game because it is a very important check for the season and we want to look how our condition is, and also because against Manchester United is never an easy game," Ancelotti said.
"We want to do our best because Manchester United could be the most important opponent this season, like they were last season.
"I think we need to win because we have lost too many friendly games (in pre-season).
"We are not happy to lose. We have to come back to win and start well."
Ancelotti named his team well in advance of Sunday's match and Didier Drogba will be on the bench as he returns to fitness after the World Cup.
Nicolas Anelka replaces Drogba, while Hilario is in goal in the absence of the injured Petr Cech.
England trio John Terry, Frank Lampard and Ashley Cole will all feature.
"I think the players that came back from the World Cup are not fit 100 per cent but they need to play. I will put them on the pitch on Sunday," Ancelotti added.
Even without Drogba and Cech, it is a formidable unit and Ferguson is well aware Chelsea will pose the main danger to his side's hopes of regaining the title.
A year ago Ferguson was drawing attention to the number of aging players in the Blues' squad rather than singing their praises, but the Scot has no intention of underestimating them this time.
"With the experience Chelsea have got, you have to look at them being the biggest threat," Ferguson said.
"They won the league and the cup last year and I do think you have to see the team that won the league as the ones you look at.
"I don't see why anyone should think any different. Chelsea have the experience. You can't dismiss them."
If United are to win a record 19th English league title, Ferguson's faith in his young players needs to be vindicated in a big way.
United's lack of high-profile signings during the close-season has been blamed on the vast debts amassed by owners the Glazer family, but Ferguson insists he preferred to nurture the talented prodigies in his squad rather than splash out on big names.
With Rio Ferdinand, Michael Carrick, Patrice Evra, Anderson and Owen Hargreaves all set to miss the start of the season, there should be plenty of chances for Ferguson's young guns to shine.
Even Wayne Rooney and Nemanja Vidic may play only a restricted role on Sunday as Ferguson eases them back after the World Cup, giving Javier Hernandez, Chris Smalling and Darron Gibson more playing time.
"We always take the long view," Ferguson said. "There is no point pushing players too early, so I don't think we will get the benefit of these players until the third week of the season."