LONDON, May 8, 2010 (AFP) - Carlo Ancelotti heads into the final game of the Premier League campaign insisting his Chelsea side deserve to land the title and that it would be a "tragedy" if they were to fall at the last hurdle.
Last weekend's 2-0 victory over Liverpool at Anfield has put Ancelotti's team in pole position ahead of Sunday's final game of the season and a home victory over Wigan will mean the championship is theirs.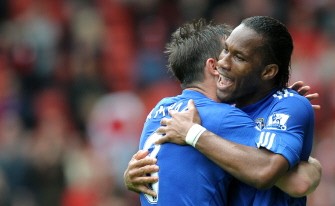 Chelsea's striker Didier Drogba (R) hugs teammate Frank Lampard at the end of the game against Liverpool during the Premiership football match at Anfield in Liverpool on May 2, 2010. Chelsea won the game 2-0. AFP PHOTO
Sir Alex Ferguson's Manchester United will be waiting expectantly for the London club to slip up but, having seen his side head the table for almost all of the campaign, Ancelotti believes anything other than a Chelsea triumph would be cruel.
"We did a fantastic job but we've still got one game to go," said Ancelotti, whose side are one point ahead of United. "We have to do our best, have the same behaviour in the last game.
"Until now, we've deserved to stay at the top of the list. It would be a tragedy if we lost the last game after 10 months of a good, fantastic job. Every day. It would be a tragedy, a disaster."
Ancelotti has experienced disappointment at this stage of the season before when he was in charge at Juventus in Serie A ten years ago.
Then, Juventus conceded the title to Lazio after losing a storm-delayed game in Perugia but Ancelotti insists there is no chance of a repeat this time.
"It wasn't rain, it was a storm," he said. "We lost. But it'll be different. I don't think there'll be a storm at Stamford Bridge, and I was away with Juventus. We (Chelsea) play at home on Sunday."
Chelsea's dominance this season has been largely due to their impressive firepower that has so far delivered 95 league goals, two short of the Premier League record set by Manchester United in 2000.
With nine goals in their last two games, there would appear to be a possibility of the Blues beating that record and even becoming the first team to pass the 100-goal mark.
Ancelotti, though, has dismissed any suggestion that the milestone interests him.
"We just have to win," he added. "We have to score one more goal than Wigan. We're not interested in the other records.
"We're not thinking about this record. We want to win and be champions. That's all."
Wigan manager Roberto Martinez insists his side are not heading to Stamford Bridge simply to play a supporting role in Chelsea's march towards the title.
Martinez knows Wigan's performance will come under scrutiny and while they have nothing of significance left to play for, the Spaniard believes his players' pride will ensure they test Chelsea fully.
"There are no expectations on us," he said. "Everyone expects Chelsea to win and so for us we are going to be together, we need to be really close and help each other and perform.
"We are capable of going to Stamford Bridge and making things difficult.
"For our football club to perform well when the whole football world is watching is going to give us special memories and that is what you play football for," he added.
"Our season is finished but Sunday is something more special than that.
"It is more than a football game for us because we know the whole football world is watching and for the youngsters they could learn more in 90 minutes than they could for two or three years."
He added: "We want to represent Wigan Athletic in the right manner by making sure that we can cause an upset, and that's the approach of the players.
"As a player, to be part of that sort of game where you have a say in the opposition winning the title or not, those are the great memories."