England, March 22, 2010 (AFP) - Carlo Ancelotti admits Chelsea have gifted Manchester United the advantage in the Premier League title race after his side squandered the lead in a 1-1 draw at Blackburn.
Taking just one point at Ewood Park on Sunday was a major setback for Chelsea, who are now four points behind leaders United in third place, and Blues boss Ancelotti conceded they had only themselves to blame after El-Hadji Diouf cancelled out Didier Drogba's early opener.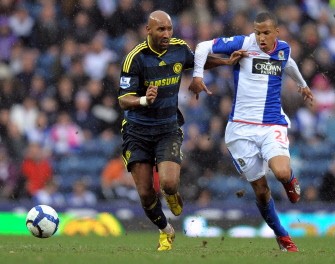 Chelsea's French forward Nicolas Anelka (L) vies with Blackburn Rovers' Swedish defender Martin Olsson during the English Premier League football match at Ewood Park on March 21, 2010. AFP PHOTO
The result hardly improved Ancelotti's mood in the wake of Chelsea's exit from the Champions League to Inter Milan and he said: "We started well and scored a nice goal. We had other chances to improve our scoring but the second half was more difficult for us.
"But Blackburn won a lot of second balls and we lost our composure before conceding the goal.
"We still came back to play but it was too late and I'm disappointed. We've lost two important points.
"I don't know if there was a hangover from the Inter match. We tried to win the game and forget about the defeat to Inter. For an hour we did well but this is not an easy moment for us.
"It will be more difficult for us to win the title now but not impossible. We won't have to lose our confidence or composure.
"Manchester United are top of the table and we need to leave this moment as soon as possible."
While Chelsea are undoubtedly spluttering, they can close the gap on United to one point with a win over Portsmouth on Wednesday and Ancelotti left his players in no doubt as to what is expected of them against the Premier League's bottom club at Fratton Park.
"We have to win now, it's the only solution to go forward. It's difficult to explain why this has happened, but we need to look forward to the next game," he said.
"We need to work together so we can stay close to Manchester United. I don't know how many points we need for the title, but I know we need to win at Portsmouth on Wednesday."
In contrast with Ancelotti's downbeat mood, Sam Allardyce was delighted with the way Blackburn frustrated their opponents and he highlighted the performance of teenager defender Phil Jones on his league debut.
He said: "I thought we deserved it in the end. Our second half performance merited the equaliser. It's a big week for us and this is a good start.
"People thought Chelsea would get the win they needed to go on towards taking the title. But Chelsea couldn't capitalise and we came fighting back.
"The debut from Phil summed it all up. They all did well but he was the best and it looks like he's got a bright future.
"He showed great commitment and we are all very pleased. We have seen him play in the first team this year and do very well. As big a game as this was we felt it was his time to get the chance and he's grasped it."
Drogba gave Chelsea the lead in the sixth minute when he converted Nicolas Anelka's cross, but Diouf levelled with a header from Michel Salgado's cross in the 70th minute.
Rovers look certain to avoid relegation and Allardyce added: "We've got some more big games coming up but if we continue to play like this we can secure our Premier League status by the end of this week."