JOHANNESBURG, May 23, 2010 (AFP) - Algerian reverence for World Cup Group C rivals England extends to coach Rabah Saadane calling his counterpart Mr Fabio Capello.
That is quite a compliment given that white-haired, balding Saadane, who has just turned 64, ranks among the elder statesmen of African coaches, and led his country at the last Cup appearance 24 years ago.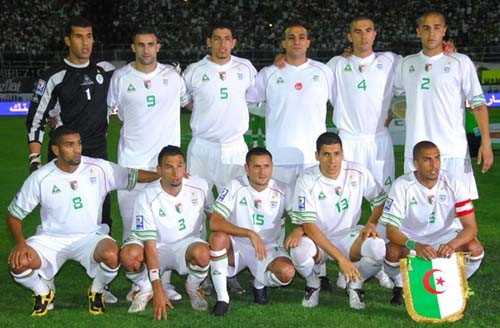 The Algeria football team
Surprise semi-finalists at the Africa Cup of Nations this year, Les Fennecs (Desert Foxes) accept that an England team revitalised by Italian disciplinarian Capello are hot favourites to top the table.
But the French-speaking North African nation that sprang to international football prominence by stunning West Germany at the 1982 World Cup believe they can touch the tape ahead of the United States and Slovenia and finish second.
Such a feat would represent a large dollop of icing on the cake as Algeria are widely considered the weakest of a record six African qualifiers for the World Cup.
Logic and football may not be the most natural bedfellows, but the United States confounded critics at the dress-rehearsal FIFA Confederations Cup in South Africa last June by stunning Spain and finishing runners-up to Brazil.
And while Slovenia may not trip readily off the tongue when listing European football giants, they overcame Guus Hiddink-managed Russia to reach South Africa and the first World Cup staged on the continent.
"England and the United States are the obvious favourites to progress," conceded Saadane to the Algerian media, "but this is an equal group and it is difficult to predict who will qualify.
"I think the most important thing is that Algeria are back on the world stage after 24 years and that the team performs with dignity and honour. We are ambassadors for Algerian, Arabic and African football."
Glasgow Rangers central defender Madjid Bougherra was the outstanding Algerian at a Nations Cup where they came fourth behind Egypt, Ghana and Nigeria.
"It has been said that we cannot qualify from a group including England and the United States, but I am sure we will advance to the knockout stage," said the star with a fondness for venturing forward at set pieces.
Bougherra snatched the stoppage-time equaliser en route to a shock Nations Cup last-eight triumph over title favourites Ivory Coast and was also a key figure in the World Cup play-off victory over fancied Egypt.
With Faouzi Chaouchi banned until the final group fixture against the United States after head-butting a Nations Cup referee, vastly experienced Lounes Gaouaoui is sure to regain the goalkeeper jersey.
A back four of Antar Yahia, Rafik Halliche, Bougherra and Nadir Belhadj picks itself while Karim Ziani, captain Yazid Mansouri and Hassan Yebda are likely midfield starters with the spot up for grabs.
Choosing who plays up front will be the biggest headache for Saadane as the 'Foxes' managed just four goals in six Nations Cup outings and three of those came in one match that stretched to two hours.
Abdelkader Ghezzal, Rafik Djebbour, 35-year-old squad veteran Rafik Saifi and Chadli Amri are the contenders and how the chosen duo fare could determine whether the 'Foxes' survive the first-round cull.