Thai paint company 4 Oranges, one of the main sponsors of the Vietnam football squad last year, has again become a sponsor as it signed a new deal with Vietnam Football Federation in Hanoi Thursday.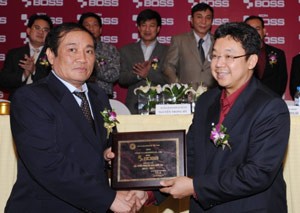 Vietnam Football Federation president Nguyen Trong Hy (L) presents a sponsorship certification to 4 Oranges marketing director Chalermsak Pimolsri during Thursday's signing ceremony (Photo: N.Y)
The contract value was not revealed and the one-year deal lasts from this April to next April.
The paint manufacturer also sponsored the national squad and under-23 team last year, using its brand Boss Paints for the sponsorship. The brand continues its role under the new agreement.
Earlier this month, the federation and Vietnam coach Henrique Calisto signed a new three-year contract, and the Portuguese tactician will receive a monthly salary of US$22,000, quite higher than the previous US$13,000 for him.
He will be drawing up a new strategy in these three years to further develop Vietnamese football's standings in regional and continental competitions, according to the football governing body.
In 2008, Vietnam under Calisto won the ASEAN Football Championship title for the first time. The immediate task for the coach this year will be to defend the title.
The ASEAN Football Federation Championship 2010 will be co-hosted by Indonesia and Vietnam this December.